Dougie At Sea To Sky Enduro
Details

Dougie Lampkin Press Service
Dougie Lampkin - Gas Gas was forced to push his bike to the last summit as he finally placed seventh at the infamous Red Bull Sea to Sky extreme enduro in Turkey. Lampkin had struggled for most of the third and final day of the event after his machine lost water just after the first fuel stop of the day. Knowing that he risked a DNF Dougie nursed his bike for the rest of the day and had to sacrifice speed and a potential higher placing in the hope of a finish on what was his debut at this event.

Lampkin's tough three day encounter started with a beach race on the opening day, which did not begin well for the multi FIM Trial World Champion as his bike failed to fire into life after he had made a Le Mans style dash along with the eighty other competitors. With his engine finally started Dougie then crashed twice on the first lap as he tried to get used to the soft Turkish sand, which was a far cry from the granite boulders of his native Yorkshire. At the end of the twenty-minute plus one lap dash Lampkin placed seventeenth, which gave him his starting position for day two.

The change in terrain for the second day was very much to Dougie's liking as he moved up the order to take ninth spot in the Forest race and in doing so earned himself a front row start for the third and decisive day of this unique competition. Although at the head of the pack as day three got underway, Lampkin was not comfortable in the dusty conditions and adopted a cautious approach during the early kilometres, a theme he was forced to follow for the remainder of the day as his plight was restricted by the previously mentioned mechanical difficulties.

Speaking after his three tough days in the saddle, Lampkin said. "In the end I am just pleased that I have managed to make it to the finish, as there have been several occasions today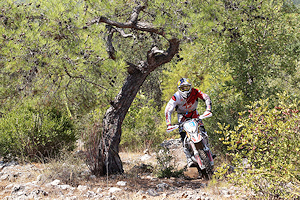 where I wasn't sure that was going to happen. The problem was that you are continuously climbing which put so much strain on the engine, and just made the problem even worse."

"Having nursed the bike all day it finally died within sight of the finish arch, so I started shouting for people to come and help me push it up the final seventy metres or so to the line. A couple of photographers, plus a couple of English fans and very sportingly Jonny Walker came down to help me, and although Paul Bolton passed me back only metres from the finish it was a massive relief to actually get over the line."

"Like with all these type of extreme events, you learn so much the first time you ride them, so I would like to think I would be better prepared in the future. That said, all in all it has been a great race." ended Dougie.