Jack Sheppard Wins Penultimate British Championship Round
Details

Trials Central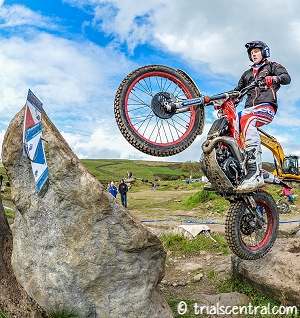 The 2017 RT Keedwell sponsored ACU British Trials Championship is heading for a nail-biting final round showdown after Jack Sheppard - Beta closed the gap on series leader, Jack Price - Gas Gas to just a single mark after taking victory at the seventh and penultimate round, held at the Bob MacGregor Trials Academy in Ayrshire, Scotland.
It was Price who set the early running with his score of just five on the first of three laps of twelve sections at the popular, compact venue. Sheppard was two points adrift on seven and Toby Martyn - Vertigo just one further point behind. Things looked to be going Price's way until what can only be described as a freak accident on the fourth section of his second lap resulted in his only five of the day. With Sheppard on form, it was a five that was to prove fatal as the Suffolk-based rider dropped just three for his second lap giving him a two point lead with one lap remaining. Bouncing back from his mishap on lap two, Price rode clean right up until the very final section of the day, the tough waterfall section where he added three to his punchcard, but with both Sheppard and now Martyn on a roll and both cleaning their final lap, Price had to settle for third place with Sheppard taking top spot and Martyn mounting the podium for the first time in the Championship this year finishing second.
Price now holds the narrowest of leads in the Championship standings heading into the final day of competition, with just one mark separating him from Sheppard.
In the Expert Championship,it was James Fry - Sherco, fresh from his Trial des Nations minding duties who occupied the top step of the podium after taking his second victory of the series and he did it in some style, dropping just a single dab over the entire thirty six sections. Second place went to the currently on-form James Stones - Beta (whispers of Scott Trial winner were heard - no pressure!) twelve points behind Fry with Keiran Child - Beta managing to turn round a poor opening lap performance to take third place and his first podium spot of the season.
Expert series leader up until today, Richard Sadler - Beta had what was undoubtedly a bad day at the office. His eighth position finish was by far his worst result of the year and has allowed Fry to overtake him in the Championship standings, though only by four marks so this is another Championship that will go to the wire and be decided on the final day.
Over in the Youth A Championship, Billy Green - Beta continued his clean sweep of victories taking his seventh win from seven starts by a nine point margin over Duncan Maccoll - Beta with Oliver Smith - Oset completing the podium line-up. With just one day of competition remaining and a thirty-one point lead in the Championship standings, Green cannot now be beaten and is 2017 British Youth A Champion.
The second and final day of the Championship will take place at the same venue tomorrow with a mix of new and altered sections on offer. However, it is likely to be a completely different event with the good weather of today replaced by the tail end of the recent American storms which are due to hit Scotland overnight.
pdf Download Championship Class Results (80 KB)
pdf Download Expert Class Results (24 KB)
pdf Download Youth Class Results (23 KB)
All Series Results & Championship Standings
Photo Coverage
For our extensive photo coverage from this event, click here