Jack Price 2017 British Trials Champion
Details

Trials Central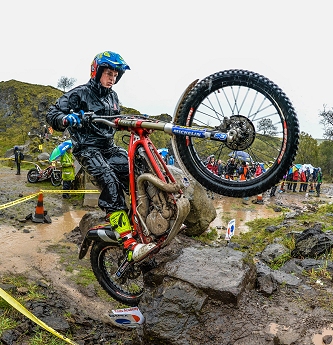 In his own words "I didn't make it easy for myself", but in the final round showdown to the 2017 RT Keedwell sponsored ACU British Trials Championship, Jack Price Gas Gas clocked up his first British domestic title with a second place finish sufficient to take the crown.
As weather forecasters predicted, today's finale was a drastically different event to the round held the previous day with heavy rain present throughout, making the sections both muddy and slippery. It was Dan Peace - Gas Gas who set the early running with an opening lap performance of twelve whilst brother, Jack - Gas Gas occupied second place, three behind on fifteen with Price in third just one further mark behind. Yesterday's winner, Jack Sheppard - Beta must have known by the end of his opening lap that his chances of lifting the title were remote after a lap score of thirty left him in seventh position and a veritable mountain to climb.
With things more settled on the second lap, both Dan Peace and Price dropped just seven whilst Jack Peace dropped eight to hold onto third place, but Toby Martyn - Vertigo bounced back from an opening lap of seventeen which included a nasty crash, to also drop seven and put himself in contention for another podium spot just one mark adrift of the younger Peace.
The final visit to the sections of the year saw Price in his stride with just one five dropped on the tough ninth section, a section nobody got through all day. Dan Peace, repeated his second lap score of seven, but it was that first lap that was to prove crucial and this was enough to see him take his first victory of the year with Price having to settle for second place. In the battle for the remaining place on the podium, Martyn turned in a final lap score of eight with Jack Peace dropping nine, leaving both riders tied on thirty-two marks apiece. With the most-cleans rule coming into effect, it was Martyn who put himself on the podium for the second day in succession by twenty-five cleans to twenty-four.
The Expert Championship was another that was to be decided in a final round showdown with James Fry - Sherco going into the final round with a four point lead over Richard Sadler - Beta in the Championship standings. Neither had the best of days as Luke Walker - Sherco, Tom Affleck - Sherco and Hugo Jervis - Beta occupied the podium. Definitely a case of saving the best for last as all three riders turned in their best performances of the season at the final round. In the battle between Fry and Sadler, it was Sadler who came out top on the day, finishing in fifth position with Fry in seventh, however the points allocated for these positions were not enough to change the overal standings and James Fry lifted the 2017 Expert Champion title.
With the Youth A Championship title already in the bag, young Billy Green - Beta could have avoided the rain and had a day off, but instead the youngster made it an absolute clean sweep of the Championship with eight wins from eight starts and maximum Championship points. In second place again was Duncan MacColl - Beta with Josh Hanlon improving on this performance of the previous day to take third.
Our congratulations go to all the winners and again we must thank David and Elizabeth Willoughby for their fast and efficient results service throughout the season.
pdf Download Championship Class Results (80 KB)
pdf Download Expert Class Results (25 KB)
pdf Download Youth Class Results (23 KB)
All Series Results & Final Championship Standings
Photo Coverage
A smaller gallery due to horrendous weather conditions, but for our images from this event, click here