2016 SSDT Day One
Details

Trials Central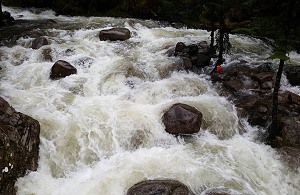 Leanachen sections at 8am this morningDevon's Joe Baker - Sherco came out on top of a rain lashed day one of the 2016 Scottish Six Days Trial (SSDT) that was contested over a reduced course due to the extreme conditions.

Torrential rain throughout Sunday night and for most of Monday morning played havoc with the opening day of this year's SSDT with the initial six sections at Leanachan having to be cancelled due to rapidly rising water levels. Two further hazards at The Lairig were also scrubbed for similar reasons as the two hundred and seventy-nine riders from twenty different nations fought their way from the parc ferme in Fort William over the sodden hills to the lunch stop in Kinlochleven.

Thankfully whilst some heavy showers still persisted during the afternoon, the welcomed respite in the foul weather conditions did allow the torrents of water in the sections to subside marginally as the day wore on which offered the later riders a slightly shallower passage through the twenty-two sections that remained in play. Taking full advantage of this changing situation, the top five places at the end of day one are occupied by riders with starting numbers of two hundred and over.

Baker holds a slim initial lead over Scarborough's Michael Brown - Gas Gas who dropped three marks over the reduced number of hazards. Brown enjoys the same slight margin over local rider Gary MacDonald - Scorpa who parted with four marks today. 2010 SSDT winner Alexz Wigg - Gas Gas also enjoyed a strong opening performance at the back of the field as he came home for the loss of just five marks despite the tricky going.

Wigg is not the only previous SSDT victor who is in early contention with both two times champion James Dabill - Vertigo and current title holder and already nine times SSDT winner Dougie Lampkin - Vertigo currently holding fifth and sixth positions with scores of six and eight respectively. Nineteen-year-old Welsh rider Iwan Roberts - Beta shares the same marks as Lampkin in seventh place as the youngster brought his great recent World Championship form to this classic event.

Dougie's younger cousin James Lampkin - Beta made sure that this famous motorcycling family is well represented at the sharp end as he slotted into eighth spot leaving James Stones - Sherco and Chris Pearson - Sherco to round out the top ten on the opening day where the weather was the headline story.

Tom Hooper - Sherco has grabbed the initial advantage in the fight to become best newcomer, his total of nineteen marks putting him one place inside the top thirty after the first big test of the week. Emma Bristow - Sherco started the defence of her ladies SSDT title with a brave first day showing as she placed in forty-second overall against her male rivals to be the highest ranked female rider on day one. Gary MacDonald flies the home flag as best Scottish rider at this stage. Perhaps as was expected, having recently turned forty earlier this year, Dougie Lampkin is in control of the over 40 class but will be less concerned with this award as he bids to retain the main trophy.

Tomorrow's second day could throw up a few surprises with the ninety-three-mile route including several new group of sections with rain again forecast, albeit predicted to be lighter and less persistent than today.
Download Day One Provisional Results
Photo Coverage
For our Trials Central Supporters, our first gallery of hi-res and unwatermarked images, comprises 255 shots from this afternoon's action. These can be accessed by clicking here.
Free Public Gallery - Day One