Fun Times At Tong For Youngsters
Details

Trials Central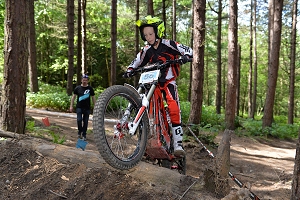 As the dust settles (literally) on a dry Parkwood Centre in Yorkshire, there are two dozen kids celebrating being awarded #Champ T'shirts and winners caps at TrialGP by a legend in the sport, Dougie Lampkin.
With 52 riders taking part in the OSET mini Trial from all over the UK, it demonstrates the incredible appetite and growth in youth trials in recent years. Ian Smith, founder of OSET Bikes, said: "It's great to see so many kids enjoying riding trials bikes and competing too. When we first attended the world round we had two models – the 12.5 and 16.0. We were seen as novelty and for many, it was the first time they'd really seen an electric trials bike. Fast forward five years and we have 10 different bikes and we provide four different routes for kids to ride. From absolute beginner, simply learning to ride with their feet on the pegs and navigate through flags, up to elite route, which is in par with an adult Clubman B route!"
On the day there were eight, named sections including Mount Fujinami, Clean now punch it and Go For Busto. With three laps and using punch cards, kids and parents got a taste of national style competing. A variety of sections were designed to test and bring on all abilities. Obstacles included the enduro log garden to develop throttle control, steep drop ins and hill climbs, to develop bike confidence and body positioning while the variety of rock steps, full lock turns and cambered banking ensured a wide variety of skills were tested, while giving plenty of ideas for future practice.
Located at the top of the wood, it was perfect trialling weather. Dry and warm with plenty of dappled shade from the overhead leaf canopy. All the youngsters enjoyed stepping up to the world stage to have their pictures taken on the podium, with riders receiving a Wispa bar 'medal' (because OSET's are silent…too many people not getting the link on the day) and what every kid really wants, an OSET branded figit spinner!
Simon Armstrong from OSET Bikes, said: "The OSET community continues to go from strength to strength and we would like to say a huge thank you to Trials UK, who helped tremendously in setting out, observing and with goody bags for all the E-Class riders. Also thank you to Kudu Print's Russ Brody, Penny Hutchinson and to all the people that stepped up on the day to observe a section. It takes a community of people to make an event like this happen – thank you!"
pdf Download Full Results (52 KB)
The full gallery of images can be accessed by clicking here.
Report: OSET. Images: trialscentral.com