Sheppard's TV Career In Top Gear
Details

Jack Sheppard Press Service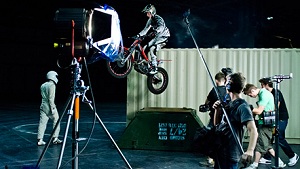 Fresh from his appearance on Saturday night primetime TV, Jitsie factory Beta rider Jack Sheppard is now also appearing alongside the Stig in a new TV commercial for Top Gear Live that is being aired nationwide over the coming months. The nineteen year old from Suffolk recently filmed the advert as part of the promotion for this year's Top Gear Live Show that begins at Birmingham in late October.

Sheppard can be seen performing his routine on the roof of a large storage container whilst the Stig circles below in the new Aston Martin Vanquish. Although the resulting advert runs for just thirty seconds, Jack spent several hours repeating his process in order to get the full array of shots that were needed.

Jack is no stranger to the Top Gear Live crew, with the teenager from Ipswich having actually been a part of the live show proper last year, which included him performing in both Ireland and Australia alongside Clarkson and co on the 2011 tour. Currently Sheppard has not been confirmed as part of the 2012 Top Gear Live tour, though will be available should he be called up at late notice once again.


Talking about the filming project Jack said. "I was pleased to be asked to be involved in the TV advert, as it was a really cool opportunity. I knew most of the guys who were on set, as they were the same crew who were on the tour last year."

"It is not often that you get to ride your bike alongside such a legend as the Stig and to appear on TV, so I need to thank also those involved for inviting me back. It would be great to be a part of the live show again, but we will have to see if I feature in their plans moving forward."