Bradford & District
Details

Information courtesy of Barry Robinson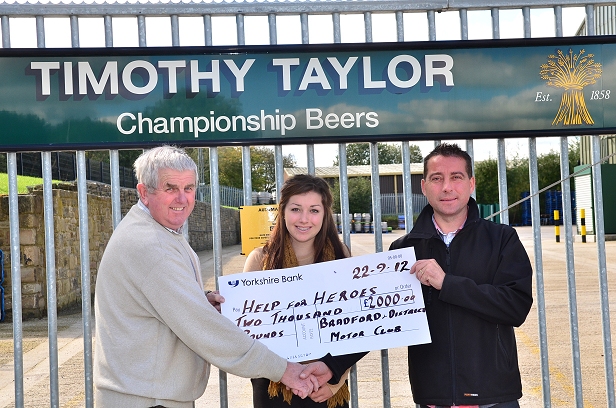 Bradford Motor Club organized a trial at Harden in June specifically to raise money for the Help the Heroes appeal. The event was well supported by competitors and by Keighley brewers Timothy Taylor Championship Beers who donated a barrel of beer which certainly cooled down the competitors after the trial.
Gargrave brewery employee Glyn Tattersall competed in the trial with his fourteen, now fifteen years old, Aireville School pupil daughter Francesca. They have a special interest in the fund raising as Glyn's nineteen year old nephew Christopher Kershaw was killed in Afghanistan along with five other colleagues when their tank was blown up by a land mine.
The Timothy Taylor organization supports the Yorkshire Regiment and have recently marketed a special beer under the name of Havercake. The company will donate ten pence to the Yorkshire Regiment funds on every pint of the new brew sold. On Saturday Bradford Motor Club official Mr Ron Eddings handed over a cheque for £2000 to Francesca and Glyn Tattersall which will be paid into
the charity. Several other major motor cycle trials sport clubs have
been following the Bradford Motor Club policy of supporting the charity.