Red Rose Classic MCC Club Championship
Details

Red Rose Classic MCC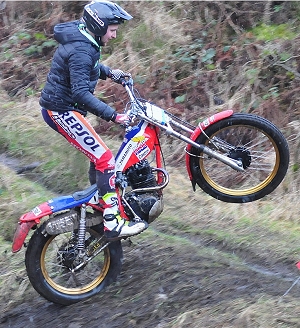 Ben Butterworth was in a class of his own as he swept to a well-deserved win on round two of Red Rose Classic MCC's club championship – and he did it on a bike he'd never ridden before. The Ramsbottom rider produced a flawless ride, cleaning the entire route despite hostile weather conditions and using Phil Clarkson's 1984 Honda RS250. "Phil very kindly loaned me the bike to use, but it's quite a rare machine so I had to be careful," he said. "Tony Dillon, Carl Winstanley and I set out the course on Saturday and reckoned it was on the easy side, but after the first lap we proved ourselves completely wrong. I got used to the bike after the first lap, and to keep my feet up all day was good."

Over 50 riders turned up for four laps of ten sections at the popular Warmden Quarry, set in the hills overlooking Accrington. The venue offers a comprehensive challenge, with fast-flowing streams, rock steps, narrow gullies and steep grassy hillocks. Picturesque on a summer's day, a February combination of sub-zero temperatures, a ferocious east wind, and frequent snow showers made it a challenge for all the competitors – and observers.
Butterworth dominated class T, finishing six marks clear of runner-up James Moorhouse on his Bultaco, with Paul Norman (Fantic) third on 17 marks.
Lee Walker had class A all to himself, chalking up 62 marks on his Ariel.

Six marks separated the top three in class C, with Steve Smith (BSA) winning on 11 and Pete Clibburn (Cub) second on 14. Owen Hardisty rounded off the podium places with 17 marks on his Cub.

Steve Thomas had a great run in class Ce, securing the win with a single dab on his Bantam, 15 clear of former Speedway star Eric Boocock (Cub), who was just two marks ahead of third-placed Odgie and his Bantam.

The popular Te class went the way of John Wilson on his Yamaha, with ten marks lost. Malcolm Bell and Chris Forshaw tied for second place on 17, with Bell getting the verdict on the Oldest Rider rule.


Red Rose Classic MCC would like to thank clerks-of-the-course Tony Dillon, Ben Butterworth and Carl Winstanley and the observers. Their next trial is at Pendlebury (TEG) Bait, between Bacup and Todmorden on March 12. Nearest postcode is OL14 7AF.


Results


Class A: Lee Walker (Ariel) 62.
Class C: Steve Smith (BSA) 11, Pete Clibburn (Cub) 14, Owen Hardisty (Cub) 17.
Class Ce: Steve Thomas (Bantam) 1, Eric Boocock (Cub) 16, Odgie (Bantam) 18.
Class T: Ben Butterworth (Honda) 0, James Moorhouse (Bultaco) 6, Paul Norman (Fantic) 17.
Class Te: John Wilson (Yamaha) 10, Malcolm Bell (Bultaco) 17, Chris Forshaw (Montesa) 17.