Mansfield Maun Get 2017 Sidecar Season Underway
Details

Trials Central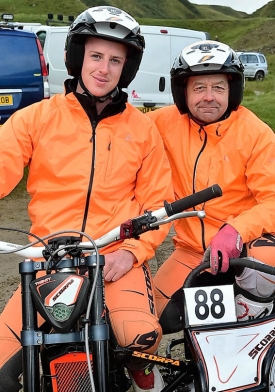 It's the Mansfield Maun club turn to start the 2017 Wessex Plant British Sidecar championship on Sunday at Winster, near Mansfield this Sunday, 19th March.
Thirty three outfits and sixteen solos have entered to ride a twenty section course twice. Featuring the seven well known groups at Barry Burton's Dudwood Farm. Burycliffe Quarry, Grange Mill, Rock Hurst Farm, Longcliffe Top Quarry, Able and finally Emley's Wood. Interestingly seven of the crews will cross from the Isle of Man!
2017 will see the resumption of the Nigel Crellin and Chris Molyneux tussles with Jon Tuck and Matt Sparkes . William Caine will have a new passenger in Ben Crookall while Beth Thomas is busy this year on stage as a ballet dancer -yes - you read that right. Invalid carriage retailer Nigel Scot resumes the fray with daughter Gracie-May Scott in the chair, will Nigel have warned his daughter that bruises are part of the 'pleasure' of being a sidecar passenger. Terry Crabtree is the Clerk of Course so the sections had better be sensible as his daughter, (and event secretary), Karen Crabtree will be in the chair of Chris Dellow.
Refreshments will available before and after the start. First starts will be the solos at 10.01 followed by the sidecars. Time allowance will be 5.5 hours. There will be a camping area at the start.