Brooksbank Aiming High In 2017
Details

Trials Central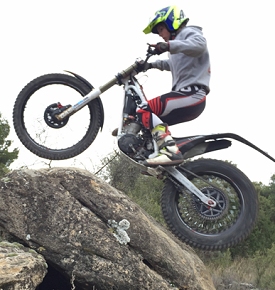 Denholmes Olivia Brooksbank sourced a victory in the opening round of the Girls B Class British championship, riding her webuyanybike.com sponsored Gas Gas 125. She took a convincing win by a forty-six point margin over second placed Elizabeth Tett - Beta with Sarah Bell - Beta a further nine marks behind in third.
This was Olivia's first outing in a National Competition on the Gas Gas 125, since changing from a Sherco at the beginning of the season. Olivia's goal for this year to bring the Girls British B class Championship trophy back to Yorkshire after a long absence.
Olivia will also contest selected rounds of the Boys B Class Championship for the experience and selected rounds of the Ladies European Trials Championships, with the first round being in Holland at the end of April.