Red Rose Classic MCC Club Championship Round 5
Details

Red Rose Classic MCC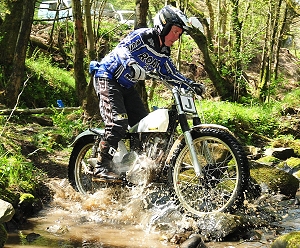 John Maxfield makes a splash at CatlowJohn Maxfield and Owen Hardisty emerged as the winners of round five of Red Rose Classic MCC's club championship. The pair each dropped just two marks to claim their respective classes after four laps of ten sections at Catlow Ford, between Burnley and Nelson. Clerks of the course Paul Whittaker and Andrew Scott made good use of Catlow Brook, which links the Coldwell and Walverden reservoirs, to create the sections. A full week of dry weather had left the water levels low, but there was still enough to catch out the unwary on the submerged rocks and boulders.

Maxfield didn't have an easy run to victory in class A, with runner-up Pete Clibburn dropping only four marks, while Andrew Scott completed a Cub 1-2-3 on six marks. Scott pipped Tony Dillon for third place on the Oldest Rider rule.

Owen Hardisty's score of two was good enough to claim class T, with the Honda rider edging out Stephen Jarman, also on a Honda, on five marks. Paul Whittaker and his Fantic rounded off the top three with seven marks lost.

Eric Atkinson and his James had class D all to himself with a score of 49.

On the clubman route, Steve Thomas had a single dab on his Bantam to see off the competition in class Ce, ahead of Bob Baker (James) with seven, and Mick Sheldon, also on a Bantam on nine.

John Wilson had an excellent day on his Yamaha, clinching class Te for the loss of two marks, seven clear of runner-up Chris Forshaw. Mel Dibb (Bultaco) claimed third on 10 marks.

Red Rose Classic MCC would like to thank the landowner, the observers and the clerks of the course, Paul Whittaker and Andrew Scott. Their next trial is at Tinklers Farm, near Slaidburn on May 28, the nearest postcode is BB7 4TP.
RESULTS
Class C: John Maxfield (Cub) 2, Pete Clibburn (Cub) 4, Andrew Scott (Cub) 6.
Class Ce: Steve Thomas (Bantam) 1, Bob Baker (James) 7, Mick Sheldon (Bantam) 9.
Class D: Eric Atkinson (James) 49.
Class T: Owen Hardisty (Honda) 2, Stephen Jarman (Honda) 5, Paul Whittaker (Fantic) 7.
Class Te: John Wilson (Yamaha) 2, Chris Forshaw (Montesa) 9, Mel Dibb (Bultaco) 10.