Chris Alford wins on Saturday at Withcall
Details

Banovallum MCC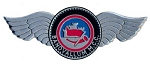 It was the 10th anniversary of The Banovallum 2 day trial at A W Smith's farm at Withcall near Louth. This year the weather was kind to us and on Saturday evening 39 riders attemped some slippery sections in and out the streams and over logs.
On the expert route Chris Alford was the clear winner dropping only 4 marks to Rob Margetts in 2nd on 24.
It was a father and daughter battle on the middle route with dad Chris Traves taking the win over Victoria Traves by 34 marks to 42.
Stuart Alford on his trusty Ty 250 Mono was champ on the 50/50 route beating Tony Bilton into 2nd place by 4 marks 18 to 22.
Mick Staples took the honours on the Easy Route losing 18 marks with Dave Hedison in 2nd on 21.
A big thanks to all the Officials,course plotters and our trusty observers for giving up their time as without you all the event wouldn't run so smoothly.
pdf Download Day One Results (13 KB)