Bassenthwaite & DMC Charity Trial
Details

Bassenthwaite & District MC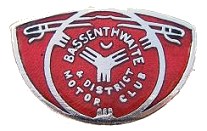 Thank you to everyone who took part in our first charity trial of 2017. We hope that you enjoyed your ride and look forward to seeing you all again next month. Many thanks to Mr Robinson for allowing us to use his land that lends itself so well for laying out a varied trial.
Thank you also to three generations of the Gaskell family (John, Stuart, Dan, Jack, and Lewis) along with Jonny Robinson for marking out an interesting and excellent trial. As always we are extremeley grateful to all our observers without whom our sport would not be possible - thank you one and all.
Thank you very much to David Matthews aka Martha for providing our catering. He had arrived and set up as early at 4pm and wouldn't have been home until around midnight or after. Not only this, but he also made a generous donation to our charity fund for which we are very grateful.
Our next event is on 2nd August 2017 at the same venue but we will need to get things going a bit sooner otherwise we'll run out of daylight.