YMSA KIA Trophy Trial
Details

YMSA Trials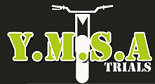 The YMSA returned after a 3 month break to host the 4th round of their 2017 trials championship last Sunday.A large and high quality entry arrived at Burycliff quarry in glorious Derbyshire sunshine,unfortunately this was not to last ! Half way through the trial a heavy shower of monsoon proportions soaked every one and changed the nature of the trial.
The section setting team did a great job of hacking and clearing to provide some new challenges to add to the classic big rock sections that Burycliff is famous for. In youth A Oliver Smith continued his winning ways with a 5 mark margin of victory over Charlie Smith who rode up a route from his normal B class. Gus Oblein filled the final podium spot a further 16 marks back.B class was even closer with Jack Dance putting up a great score of only 9 which was enough to seal the win. Second placewas taken by YMSA newcomer Reece Gazzard who had travelled from Northern Ireland and used the event as practice as he was then on his way to Italy for the next European round. Championship leader Mitch Brightmore lost out to Reece by a single dab with a score of 16. This result puts Mitch in the pound seats to take the championship.
In C class Ashton Brightmore was in great form to drop only 3 marks, by far the best score on that route. Second place went to Jasper Fox who has made the switch from electric to petrol. It was also a good day for the Brooksbank girls with Summer taking the win in D class from championship leader Max Dance. Summer's older sister, Olivia was once again the clear winner in the youth novice class with a score of only 12 marks lost. Second went to Daisy Parsons and third Libby Tett making it an all girl podium again.
The expert class saw an easy win for Luke Walker who rode his brand new 2018 Sherco which was barely run in ! Luke never looked in any trouble and his score of 7 showed his mastery of the conditions. Kieran Child looked to be in the hunt for the win but a couple of bad rides on the slippery rocks of section 10 dropped him to second place. Tom Culliford made a welcome return to YMSA competition and grabbed the final podium spot.
The intermediate class saw another win for Dan Reeves who had a steady ride to lose 21. This was well ahead of second place man James Allen on 36 with Josh bawden only a couple of dabs further back in third place.
Leicestershire veteran ian Margetts rolled back the years to take a clear win in the novice class from Chris Brightmore who was closely followed in third by Beth Dunning.
The ever popular green route saw a victory for Kieran Mcdaid who rode his Fantic twinshock to a clear win over the modern bikes of Russ Kenward and Simon Armstrong who filled out the top three.The penultimate round of the championship will be held on Aug – 20th at Carsington Pastures.
Report: Barry Burton
RESULTS
A – CLASS OLIVER SMITH GAS GAS 33
CHARLIE SMITH BETA 38
GUS OBLEIN SHERCO 54
B – CLASS JACK DANCE GAS GAS 9
REECE GAZZARD SCORPA 15
MITCH BRIGHTMORE GA GAS 16
C – CLASS ASH BRIGHTMORE BETA 3
JASPER FOX BETA 105
D – CLASS SUMMER BROOKSBANK OSET 21
MAX DANCE BETS 36
YOUTH NOV- OLIVIA BROOKSBANK GAS GAS 12
DAISY PARSONS BETA 39
LIBBY TETT BETA 52
EXPERT LUKE WALKER SHERCO 7
KIERAN CHILD BETA 17
TOM CULLIFORD BETA 30
INTER DAN GREEVES TRS 21
JAMES ALLEN MONTESA 36
JOSH BAWDEN BETA 38
NOVICE IAN MARGETTS GA S GAS 9
CHRIS BRIGHTMORE GAS GAS 21
BETH DUNNING BETA 29
GREEN KIERAN MCDAID FANTIC 11
RUSS KENWARD GAS GAS 25
SIMON ARMSTRONG GAS GAS 33