2014 Sheffield Indoor Trial
Details

Trials Central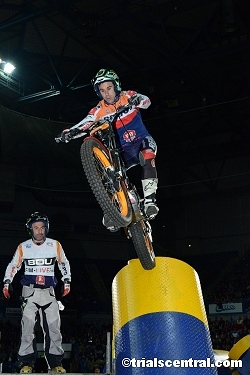 18 years on and Sheffield is still No 1 in the World. From the moment the lights dim, the music starts and the stars of the event descend into the arena, you will know instinctively that something special is about to unfold. The organisers pride themselves on presenting the very best riders in World, while also giving our home grown talent the opportunity to perform on the 'World Stage' in front of their home supporters. The half time entertainment changes from year to year, Multi World Cycle Champion Ot Pi brought the roof down quite a few times, one year he very nearly burnt the roof down with one of more risky stunts. Steve Colley has performed his one man one wheel show, Marc Vinco the French Cyclo Champion performed for his fans and Danny MacAskill has booked to appear twice and on both occasions he broke bones prior to event. Sheffield as never failed to be anything less than four hours of the very best motorcycle trials action that you are ever likely to see, that's why the fans come back year after year - and that's the magic of Sheffield.
We will be bringing you the best 4 hours of non-stop adrenalin filled action you are ever likely to see. The very best riders in the World will tackle Martin Lampkins' new, extremely difficult, huge and dangerous sections while trying to keep both feet on the pegs, the winner and the new 'King of Sheffield' will be the rider who loses the least number of marks for putting his feet down. Sheffield as been rated as the No1 Indoor Arena Trial in the World since day one, come along and see why!
The very best riders on the planet will also be joined by some of our home grown talent, but we're not saying who they are just yet, we'll let you know who they are a little nearer the event.
Tickets always sell fast with the best seats selling first, so if you and your friends want a ringside seat book early! Adult £32.50 - Under 14's £22.50 (subject to booking fee)
Saturday 4th Jan Sheffield Motorpoint Arena - Arena Box office 0114 256 5656 or www.motorpointarena.co.uk