2014 X-Trial Championship Round 1
Details

Trials Central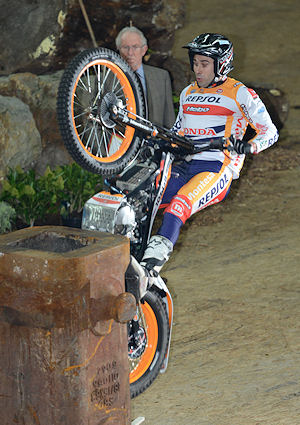 Toni Bou – Repsol Montesa sealed a close win on the opening night of the 2014 FIM X-Trial World Championship in Sheffield, Great Britain after having duelled with Albert Cabestany – Sherco right until the last section of the event. Cabestany was a worthy runner up during an intriguing evening as Jeroni Fajardo - Beta completed an all-Spanish podium as a result of Takahisa Fujinami – Repsol Montesa failing in the concluding hazard of the final.
Once again Sheffield proved an unhappy hunting ground for title contender Adam Raga – Gas Gas as he placed fifth after narrowly missing out on progressing from the semi-final stage of the competition.
The new head to head format saw some interesting encounters during the qualification process. Fujinami was the first to book himself a place in the six man semi-final when he defeated Spain's Jorge Casales – Gas Gas, who put up a brave fight on his debut in the series. Fajardo came out on top against his Beta teammate James Dabill to transfer to the next stage, whilst Dabill had to endure an agonising wait before he qualified as the best loser. Raga totally outshone Michael Brown – Gas Gas in their encounter, as did Bou when he easily demoted Loris Gubian – Ossa to becoming an early spectator. Cabestany's path to the semi-final became more straightforward as Jack Challoner – Ossa retired with an injury to his arm.
Each pairing in the semi-final started with a dual lane race to decide their running order. Having lost out to Fajardo in the head to head sprint Dabill then faced an uphill battle as he was first to attacked the now reversed four sections that comprised the semi-final. His score of six was to prove to be one too many, as Fajardo beat him in their pairing by a single dab which was a score that was also matched by Cabestany, Fujinami and Raga, whilst Bou remained clean during his mid-competition performance. Raga was to take no further part in the event as he missed out on a place in the final due to having the slowest time in the last section of the semi-final.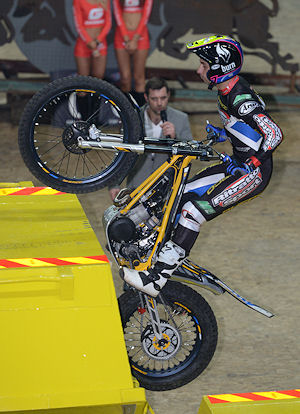 Another series of dual races determined the riding order for the four sections in the final, with Fajardo coming off worst and having to ride first whilst Bou was the best, with Fujinami and Cabestany sandwiched between them respectively. Like Dabill had found earlier, Fajardo had an obvious disadvantage as he was forced to pioneer the way in more new reversed hazards. Consequently he was always battling just to be on the podium. Fujinami put in a spirited showing despite making his first competitive outing since he sustained a serious injury to his knee last September. His failure in the last section was to hand Fajardo his deserved place on the rostrum.
In almost a repeat of twelve months ago Cabestany pushed Bou hard throughout the final, with little to separate the two Spanish riders during the tense duel. Albert applied one last pressure point on Toni as he cleaned the closing section to leave the defending champion with it all to do if victory on the opening night was to be his once again. Typically in the heat of the battle Bou delivered a ride that was solid and yet flamboyant enough to show that his first win of the campaign was one that was highly important to him and his team as the 2014 season got underway in front of a large and appreciative crowd.
The series will now take a short break before resuming for what promises to be an equally enthralling event in the French city of Marseille later this month.
Photo Coverage
These are our own photos and will not be seen elsewhere
Free Public Photos (15)
Trials Central Supporters Photo Coverage (150) - Hgher resolution, no watermarks