2012 FIM Trial World Championship Round 6
Details

Infomotor on behalf of Repsol Montesa HRC Trial Team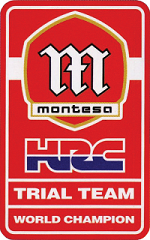 Toni Bou (Montesa Cota 4RT) has regained the World Trial Champion title for the sixth consecutive year. The Montesa rider sealed the 38th edition of this championship after winning in the antepenultimate scoring event, the first of the three opportunities he has to finish a splendid season in which he has achieved nine victories up to now, raising his record of championship victories to 48 in 124 events participated. Born on 17 October 1986 in Piera (Barcelona), Toni Bou ads to these six world championship titles the same number, also consecutive, always on Montesa bikes, in the Indoor speciality.

The celebration in Santo Stefano d'Aveto was complete, at this Sunday, Montesa also increased it's record of world championship manufacturer's titles to 15, the last seven also being consecutive and with the 4-stroke Cota 4RT. Topping it all, Takahisa Fujinami (Montesa Cota 4RT) was second, giving the team a double victory.



Toni Bou: "To win the title again makes me very happy and to have achieved it with a new victory and a new title for Montesa makes it even more satisfactory. The year is going fantastically, with lots of victories that reward our hard work. Six titles in the outdoor world championship and another six in indoor... at this moment, I'm not thinking about where we can get to, just enjoying this intense moment. Today's not been a difficult day, because although the leg injury is still affecting me, the final has been insuperable, both for the team and me. There's nothing more I could ask for".

Takahisa Fujinami: "It's been a complete day with a new championship for Toni, another for Montesa and me in second position. I didn't feel so good on the first lap, but I was convinced that I could change the situation on the next one, and that's what happened. Toni and I did better and completed the fiesta with a double victory".

Francesc Moret (Montesa) was fourth in the Junior category and is third in the general classification, with the same number of points as the second classified. This edition of the World Trial Championship ends in Penrith (England), with the last two scoring events, on July 28th and 29th.