2012 FIM Trial World Championship Round 7
Details

James Dabill Press Service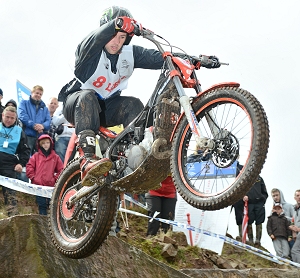 Factory Beta Trials rider, James Dabill finished the 2012 FIM World Trials Championship in spectacular style and on the podium at the final round of the series in Carlisle this weekend. The 26 year old rider from Leeds took third place on the final day, recording his first ever podium in the Outdoor championships, having finished in 5th position on the Saturday. James' result this weekend means he finishes the championship in 6th position and the highest ranked British contender of the year.

James started the weekend campaign well, and was showing a new level of consistency and confidence within his riding. A damaging string of five maximum marks in the middle of his opening lap on Saturday was only a demonstration of how severe the sections at the British venue were, as many other riders were caught out by the difficult course designed by the former British Trials Champion, Graham Jarvis.

A first lap score of 41 on Saturday was not too far off the pace, but meant the Monster Energy rider would need to make some clear improvements on the final lap to challenge his factory team-mate, Jeroni Fajardo for forth position. James's final lap of 26 proved to be a single mark better than Fajardo but despite riding incredibly well, wasn't enough to infringe upon the dominant Spanish trio, led by the current World Champion Toni Bou.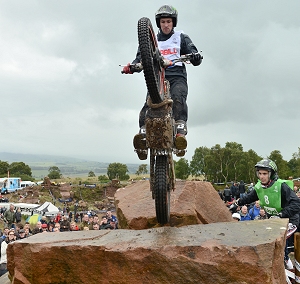 With sixth position in the championship firmly secure, the Beta rider had nothing to lose going into the final day of riding. With the support from a passionate British crowd behind him, James was focused on delivering a impressive ride to finish the season off. Dabill's determination was apparent within his riding style, and his concentration certainly paid off as he managed to clean eight of the 15 sections on the opening lap, which once again left him just a single mark behind his Spanish counter-part at the Beta team. Dabill took his competitive pace into the second lap of the trial and made every mark count, a further eight clean rides was meant James would finish the day on 39, some eight marks better than Jeroni on this occasion.

Joining James on the podium was current World Champion, Toni Bou and his Spanish rival Adam Raga, who's two podium finishes this weekend give him a single point advantage over Fajardo in the championship standings.

Dabill has finished in fifth position on no fewer than four occasions this year, but this was his only podium finish despite coming ever so close at the Italian leg of the championship last time out. His clear improvements in front of a passionate British crowd were clear this weekend, and the Yorkshire rider has sent a clear message to his rivals that he is one to watch in 2013.