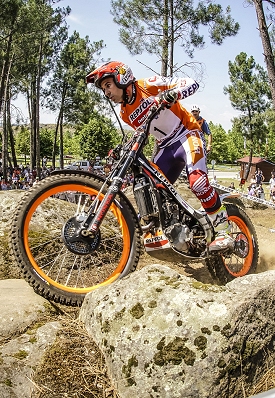 In red hot conditions the control and skill of Toni Bou - Repsol Honda carried him to a crushing victory in this afternoon's qualification session for TrialGP Portugal, round four of the 2018 FIM Trial World Championship, which gives the eleven-time World Champion the advantage of starting at the back of the field for tomorrow's Trial. With the temperature reaching almost forty degrees Celsius, the battle for supremacy was a heated affair. "It's very important for me to take the pole again and start last tomorrow," said Bou. "It was very easy to make a mistake and many riders took a five because it is an easy section, but very slippery and hard to go fast."
Laid out on a steep, rock-strewn bank under trees, the section could not have been any more different from the previous weekend's arena-style obstacle with a series of carefully placed bleached boulders the only man-made element. The dry, dusty conditions and loose soil ensured grip was at a premium in the technical turns and over the polished rocks with the Q1 session to determine starting position for Q2 throwing up a number of shocks.
A big crash in Q1 put Jamie Busto - Gas Gas as first TrialGP rider away in Q2 and the twenty-year-old Spaniard, who is currently third in the championship, was holding nothing in reserve as he raced through clean in just over forty-one seconds.Japan's Takahisa Fujinami - Repsol Honda also recorded a maximum in Q1. He stayed feet-up at his second attempt, but was four seconds slower than Busto. A stray dab in Q1 saw Bou fifth away in Q2 and the Spanish superstar had clearly learned from his earlier mistake as he blitzed through the section in a sensational time of just 0:39.35 for his second successive qualification win.
Spain's Oriol Noguera - Jotagas was fourth ahead of Jack Price - Gas Gas from Britain with Spaniard Jorge Casales - Vertigo recording the only other clean ride to end the session sixth. The biggest casualties of Q2 were two-time World Champion Adam Raga - TRRS, Jeroni Fajardo - Gas Gas who is second in the title fight and Britain's James Dabill - Beta.
The Spanish pair both failed to clear an imposing gully jump when their back wheels span on the dusty take-off and Dabill - who topped Q1 - also picked up a maximum when he rushed his attempt at the bleached boulders. As a result Raga will be second rider away tomorrow, one place ahead of Fajardo, with Dabill starting fifth.
Riding an eased route, in Trial2 it was clear series leader Matteo Grattarola - Honda who took pole. The Italian, the last man to start after topping Q1, was two-and-a-half seconds clear of Britain's Toby Martyn - Montesa. Lorenzo Gandola - Scorpa continues to make impressive progress and the stocky seventeen-year-old Italian, the 2017 FIM Trial125 Cup winner, was a fighting third ahead of Britain's Dan Peace - Gas Gas and Italy's Luca Petrella - TRRS. Spain's Gabriel Marcelli - Montesa, who is third in the championship, was one of the few Trial2 riders to go for the gully jump, but any time he saved was negligible and he ended the Q2 session in sixth.
Almost all the major players in Trial125 produced clean rides and fast times with Spain's Eric Miquel - TRRS and Martin Riobo - Gas Gas running one-two ahead of fifteen-year-old French rider Hugo Dufrese - Gas Gas. Britain's Billy Green - Beta, who leads the championship, was a comfortable fourth with Spain's Pablo Suarez - Gas Gas in fifth. Out of the title contenders the only big upset was Arthur Rovery - Sherco, who is tied for fifth on points with his compatriot Dufrese, who made a big early mistake and parted with three which will see him fourth rider away tomorrow.
Sunday's Trial will take place over two laps of fifteen sections, within the grounds of the park that is packed with huge granite boulders.
Images: P. Segales