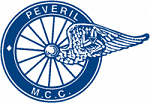 It was a trying day on the Isle of Man for the fourth round of the 2018 Acklams Beta sponsored ACU British Ladies & Girls Trials Championship. The day began with broken sunshine but as the event built up to the start the wind picked up and as the riders started their day, the wind got stronger. It quickly became apparent that it was too dangerous for not only the riders but for minders and observers too so the clerk of the course took the tough decision to call a halt to the Trial

Luckily the Club were able to move the event to their HQ at Knock Froy. It was such a shame to abandon Scarlett as there has been so much hard work put in by the committee to get everything ready and the sections looked brilliant. With no real improvement in the weather, both days are now at Knock Froy.

Thank you to all riders and families for being so understanding given the circumstances but the Club are glad they could give you a trial.
Day two for round five of the series was another wet day at Knock Froy. After having to move to Knock Froy for day one due to deteriorating weather on the south coast, the sections were tweaked so everyone had something different to ride. The rain did not relent all day but it didn't stop the riders from enjoying themselves splashing around in the mud.

Thanks to all the observers, helpers and the committee for all their hard work. It might not have gone to plan, but it was a successful weekend.
pdf Download Round 4 Full Results (281 KB)