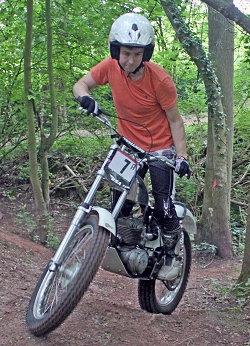 Rob Collett tackles the tight turns of section eightThe Bewdley Motor Cycle Club held the first of their three round series of Clubman and Beginners trials at the woodland venue of Shatterford last Thursday evening. As in previous years, a large entry competed in the event and they found the sections laid out at this popular venue, in a most forgiving mood.

In the A class, there were six riders who completed the thirty two section course without loss of marks, Paul Munslow, Bill Woodcock, Simon Andersom, Peter Bailey, Andy Richardson and British Ladies Championship contender and Bewdley MCC member, Elizabeth Tett.

Twenty one competitors chose to ride the B Route, with Mervyn Edwards and schoolboy Luke Pearson completing the course, again without loss of marks. The third podium place was a close fought affair with three riders loosing just a single mark each. Jess Bassford, Dave Taylor and Harley Lewis had an event long tussle, but using the tie break system, it was Lewis who gained the higher finishing place. Rounding off the leader board, were Michael Wilding and Stephen Leyshon. Both riders finished losing two marks each, but Wilding took the higher finish with an extra clean.

Once again, the C Route was to go down to a tie break situation with both Kayleigh Rich and Jack Pearson, brother to B Route competitor Luke Pearson, finished on two marks each. But Jack took first place, by virtue of the most cleans. Gaining the final podium place was Bewdley's Myles Greenwood, but it was by the narrowest of margins. Greenwood held onto a single mark advantage over Charlie Anderson. Completing the leader board were Joseph Bailey and Graham Humphries.