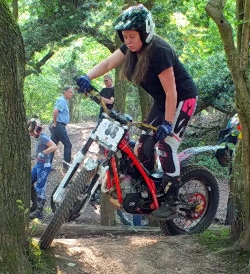 Bewdley Motor Cycle Club organised their third and final round of their Clubman and Beginners Trial series at the ever popular venue of Birchwood farm, Shatterford, on 5th June and attracted another large entry. The club has been more than pleased with the success of this years three trial series and looks forward to repeating three trials in 2019.

The evening proved very successful for the Richardson family, with father Andy cleaning the A route and son Ethan finishing joint first on the B route.

Completing the A route podium was schoolgirl and British Ladies Championship contender Elizabeth Tett followed by Pre-65 competitor Paul Munslow, both being separated by a single mark.Contested by the majority of competitors, the B route podium provided a three way tie, with the trio of Richardson, Ken Edwards and Luke Pearson all finishing on four marks.

After competing for just a few years, Bewdley's Myles Greenwood had his best ride to date and took a clear cut win on the C Route,followed by Charlie Anderson and the very young Joseph Bailey.

The clubs thanks go to all officials, course plotters, observers, the results team and the club members who provided and served the refreshments at the end of the trial.