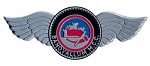 Banovallum MCC held The Alec Baumber Memorial Trial at Welton Quarry near Alford on Sunday 16th September
On a difficult hard route Roman Kyrnyckyj 62) take the win with James Drury(72) in second and Mak Hawkins(94) in third.
A fantastic ride by Victoria Traves(6) took the win on the middle route and Paul Shaw(15) in second and Mark Awcock(16) in third.
John Fox(19) had a good ride on the Honda TL to lead the 50/50 route with Simon Brodley(30) in second and Ian Bruntlett(36) in third.
In the battle of the twinshocks on the white route John Hamblin(6) beat Mike Sanderson(9) into first place and Gwyn Hanson(18) took third spot.
A big thanks to the observers, course plotters and officials.
Our next trial is at Smiths Farm Withcall LN11 9RL on Sunday 14th October.
pdf Download Full Results (397 KB)