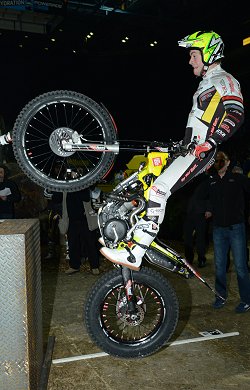 Jack Challoner – Beta will head to the Spanish seaside city of Malaga this weekend with renewed enthusiasm as he prepares for the third round of the 2013 FIM X-Trial World Championship. After a poor showing at his opening home event the twenty-two year old from Halifax, Great Britain got his campaign back on track as he placed sixth and made it through to the all important semi-final stage at the second round in Barcelona last month.
Challoner is one of just eight permanent riders who qualified for this series and is the lone representative from Britain, a nation that has enjoyed a strong association with this championship. Although Jack has a high level of respect for his more established peers, who he will continue to fight against this Sunday in the Palacio Deportes Jose Ma Martin Carpena, he is also aware that he is going to have to demote a couple of them along the way if he is to book his place in the four man final. This will be a tall ask for the young British rider, but one he has to set his sights on if he is to make a real impact this season. Moreover a strong showing in Malaga will help Challoner climb up the rankings, as he seeks a top six spot come the final standings.

Speaking ahead of this Sunday's event Challoner explained. "Barcelona was definitely a good boost for me, as I was happy how I rode after having not got my act together at Sheffield. The X-Trial format is tough, so you have got to be at your best to make it through to the semi-final when you are up against such strong rivals. The Spanish riders are the guys to beat and that's why I have made sure that I have been training with them this winter."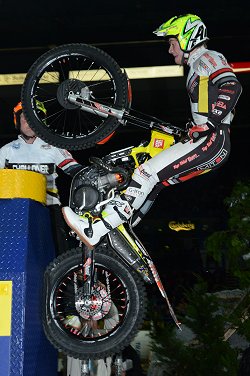 "I have been based in Spain for the last six weeks and plan to be here for another couple of weeks before I head off to Italy. It's been great to practice with the likes of (Toni) Bou and (Albert) Cabestany, as you certainly can learn a lot from these guys and as a result I do feel that my own level has improved over this winter too."

"My aim is to make it into the semi-final at the remaining rounds, and on my night if I really get my act together I feel that I could make it into a final too. A top five finish at any of the rounds is a good result for me and if I can be consistent over the closing events maybe I can also take fifth in the series." Jack continued.

"Recently Michael Brown and James Dabill came over to train with me in Spain, it was great to spend some time with them, as it feels quite strange to be the only British rider on the tour this season. It is actually quite a privilege to be flying the British flag at the FIM X-Trial World Championship, and perhaps that is giving me extra motivation to make sure that I do my absolute best, not just for me but also for Britain too."

"At the moment I am having a few days off the bike as I have injured my ring finger on my left hand as a result of going over the handlebars whilst I was practicing the other day," stated Challoner. "It's on the mend now and should be fine for Malaga, I hope so as I really want to do well there and carry on the form I showed in Barcelona and to be amongst the Spanish guys."