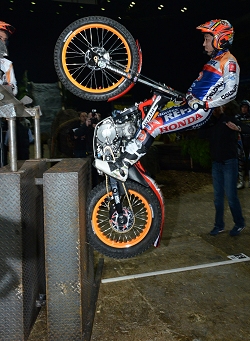 Takahisa Fujinami – Repsol Montesa is hoping he can continue his rich run of form as he sets his sights on the fourth round of the 2013 FIM X-Trial World Championship to be held in Bielefeld, Germany this coming Saturday. The thirty-three year old veteran campaigner currently holds an almost unexpected third place in the championship standings much thanks to his two podium finishes at the last two counting events. A brace of third spots in Barcelona and then Malaga have proved that the highly popular Japanese rider remains a threat even amongst the eight elite and permanent cometitors who have qualified on merit to contest the five round series.

Last time out in Malaga, Fujigas as he is affectionately known by his fans around the World due to his flamboyant riding style, came within touching distance of claiming the runners-up spot behind his dominant teammate Toni Bou – Repsol Montesa. After delivering yet another highly entertaining performance Takahisa was finally demoted to the lower step of the podium by Albert Cabestany – Sherco, by virtue of losing out on a tie decider determined in the favour of the rider with the better position during qualification.

This will be the first time Bielefeld has hosted a World status event in this discipline, although the city has previously organised other international indoor Trial competitions over a number of years. A trip to the German venue marks new ground for Fujinami, but he is looking forward to it despite now being the target for both Adam Raga – Gas Gas and Jeroni Fajardo – Beta in terms of the championship rankings.

"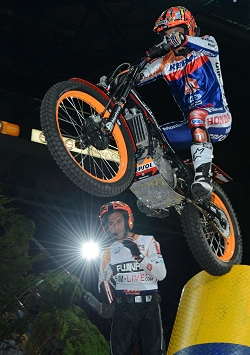 I am not thinking about the championship," stated Fujigas with a typical wide grin on his face. "At the start of the season I did not set a target. My idea was to just take each round at a time and to try and ride with no pressure and to have some fun. In the last two rounds this approach has brought good results so it is something I will look to repeat in Bielefeld this weekend."

"When you see the quality of the riders in the FIM X- Trial World Championship, the first job you have at each round is to make it through qualification," Takahisa continued. "As we have already seen this year, if you make a mistake in the first sections then you can be out very easily. So each time you must first qualify and only then can you think about the semi-final. Here you must do the same if you want to then make it to the final. Once you are inside the final you can begin to relax more, like I did in both Barcelona and Malaga."

"Recently we have had some staff over from Honda Japan to assist with the testing of some new parts. We are always looking to improve the overall package, especially as we are now the only four-stroke team and face different challenges to those faced by the teams with two-stroke machines. I hope these new parts will help us even more as it is important to keep making technical progress." explained Fujinami. "At the moment I am training for the new no-stop rules then each week I spend the days just before the competition preparing for the next FIM X-Trial. So far this system is working OK so I will work in the sameway for this weekend."
Japan's most successful Trial rider ever ended by saying. "If I make it to the podium again I will be very happy, although my first goal is to have fun and to share that with my German fans too."