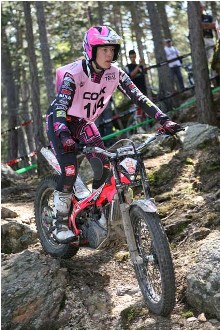 Britain's Rebekah Cook – Beta leads the way as the 2013 FIM Women's Trial World Championship resumes this weekend in Isola 2000, France after the now traditional summer break period. Cook's two - point advantage at the top of the general standings is an historic one, with her being the only rider other than Laia Sanz to ever head the table at an interim point in the season. With Sanz having been absent from this year's campaign to date due to her commitments elsewhere, Cook who has finished as vice World Champion on three previous occasions has her best chance of going one better this time around.
Having turned twenty - seven years old at the start of this month, Rebekah will be only too aware that the clock is ticking if she is to finally realise her dream of becoming FIM Women's Trial World Champion as she comes up against the new and younger generation of female riders. Cook first joined the Women's series back in September 2004 when the title was decided over just two rounds, both of which were held in Spain. Rebekah placed thirteenth on her debut to earn her first ever World points and followed upthis initial result with an improved tenth spot at the second and final round to place thirteenth overall.
From that point forward Cook made good progress by moving up to sixth in the rankings a year later as this time the two rounds of the championship took place in Italy where Rebekah placed sixth and eighth respectively. Twelve months later and the emerging British rider was really making her presence felt. Again contested over two rounds the championship visited the Czech Republic and the Isle of Man, as Cook twice made it on to the podium to claim a morale boosting third position in the final order.
From 2008 to 2010 Rebekah was to become Sanz's closest challenger as she finished runner-up to the dominant Spanish FIM Women's Trial World Champion on three successive occasions. During each of these three
seasons Cook was never quite able to topple Laia either on a round by round basis or for the title itself. This appeared to take its toll in 2011 when Cook lost her place as vice World champion to her compatriot Emma Bristow – Sherco, as she took over the mantle of being Sanz's closest rival. This was a feat Bristow was to repeat the following season as Cook dropped further down the rankings to fourth overall as she lost out to Sandra Gomez – Gas Gas in a last round shoot out.
Despite this setback, Rebekah arrived at the opening round of the 2013 FIM Women's Trial World Championship determined to make amends and that is exactly what she did when she made history by joining Sanz and Iris Kramer to become only the third ever winner of a Women's Trial Grand Prix. Although defeated by Bristow the following day, Cook's 1 – 2 showing in Andorra has put her in command of the championship table as the action resumes in France this coming weekend.
Speaking ahead of the second round of the series Rebekah shared the following words. "It certainly feels good to be leading at this point in the season, and whilst I have not been able to prepare as good as the girls who don't have to work for a living, I have done as much as I can. I have worked and waited ten years to be in this position so I am not about to give it up without a fight. I will be going for it 100% and certainly will not be holding back. It's going to be another high altitude event like Andorra, so I know my bike will be strong which is a good starting point at least. Emma (Bristow) is certainly the rider to beat at the moment, but Sandra (Gomez) is always capable of an upset too."