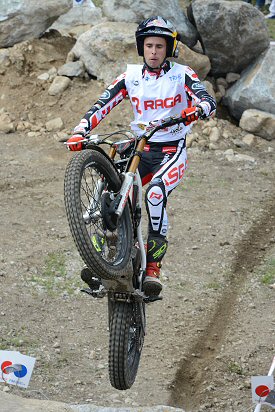 Adam Raga – Gas Gas did exactly what he needed to do to keep his title hopes alive when he won the opening day of the French Grand Prix, which is the final stop of the 2013 FIM Trial World Championship. Raga controlled today's event from start to finish and collected twenty vital championship points to move within five points of series leader Toni Bou – Repsol Montesa who could only manage third spot this time out. Jeroni Fajardo – Beta equalled his best result of the season to take the runner-up position today. Unwittingly Jeroni colluded perfectly in Raga's plot to
steal the title away from Bou, as he robbed the reigning champion of what may prove to be two important championship points come tomorrow afternoon.

Like his teammate Fajardo, James Dabill – Beta also produced his equal best performance today to take fourth place for the third time in 2013. Dabill finished eight marks clear of Alber Cabestany – Sherco who completed the top five, whilst Takahisa Fujinami – Repsol Montesa endured his equal worst day of the year down in sixth position. Following today's results Fajardo has moved within one point of Fujinami in the general standings, whilst Cabestany finds himself five points further adrift of his Spanish compatriot going into tomorrow's final counting day. All three
riders are in with a shout of claiming third spot in the championship, depending on how they perform on Sunday.

Raga was ruthless in his pursuit of a third outdoor title today, having gained a single mark lead at the end of lap one over Bou and Fajardo he then delivered two devastating closing laps – dropping two marks on each – to exploit Bou's tense and nervous disposition. Adam will need to produce a similar or better display when tomorrow comes if he is to stop Bou taking a seventh straight FIM Trial World Championship and will also have to rely on others to assist him if he is to close the five point gap that Toni currently has. The forecast rain may also play its part tomorrow.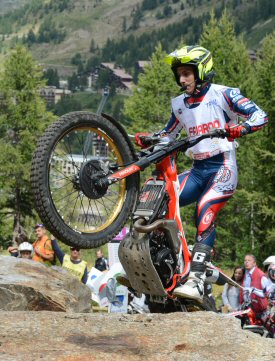 Unlike Bou and Raga, Jorge Casales – Gas Gas can sleep easy tonight having wrapped up the Junior title by placing second today. Although unable to beat his arch rival Pol Tarres – Sherco on the day, Casales did enough to secure his first crown at this level as he finished three marks behind his compatriot. Belgium Maxime Warenghien – Sherco took the last podium place ahead of French rider Cedric Tempier – Sherco, as Jonathan Richardson – Ossa completed today's top five. Tarres now holds a safe second place in the series whilst Francesc Moret – Gas Gas and Jack
Sheppard – Beta continue to fight it out for third spot in the overall standings as they finished in sixth and seventh positions respectively today.

Having already been crowned champion at the previous round Quentin Carles de Caudemberg – Beta continued his domination of the Youth class when he won the opening day of his home Grand Prix. However the young French rider had to fight off the attentions of Britain's Billy Bolt – Ossa who held the outright lead on lap one, before Quentin drew level with him come the close of the second tour. Then as Bolt faltered Carles de Caudemberg produced his best lap to win by ten marks come the finish. Bolt was a worthy runner up on the day, whilst Iwan Roberts – Beta
who won at the last round completed the podium. Gabriele Giarba – Beta and Bradley Cox – Beta remain second and third respectively in the overall standings despite finishing fourth and fifth today. Thomas Kenny – Beta has every chance of achieving a final top three final ranking, as he moved within touching distance of these two riders after he placed fourth today.
World Championship Results

1. Adam Raga - 12

2. Jeroni Fajardo - 15

3. Toni Bou - 27

4. James Dabill - 40

5. Albert Cabestany - 48

6. Takahisa Fujinami - 51

7. Alexandre Ferrer - 54

8. Loris Gubian - 73

9. Matteo Grattarola - 89

10. Jack Challoner - 105

Junior Championship Results

1. Pol Tarres - 21

2. Jorge Casales - 24

3. Maxime Warenghien - 35

4. Cedric Tempier - 52

5. Jonathan Richardson - 63

6. Francesc Moret - 66

7. Jack Sheppard - 75 (15 cleans)

8. Giacomo Saleri - 75 (14 cleans)

9. Franz Kadlec - 77

10. Matteo Poli - 83

Youth Championship Results

1. Quentin Carles de Caudemberg - 31

2. Billy Bolt - 41

3. Iwan Roberts - 48

4. Kenny Thomas - 48

5. Gabrielle Giarba - 65

6. Pietro Petrangeli - 68

7. Timo Myohanen - 69

8. Bradley Cox - 72

9. Marco Fioletti - 82

10. Declan Bullock - 83

Photo Coverage
Due to computer problems we've lost the template for the photo pages, but the galleries can still be viewed as normal. Trials Central Supporters should note galleries are spread over 9 pages to speed up loading time.
Free Public Photos (20)
Trials Central Supporters Photo Coverage (172)