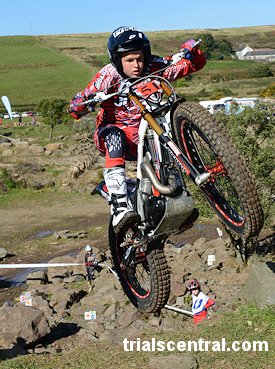 Hot on the heels of yesterday's Luscombe Suzuki Leeds British Youth C&D Championship final round, the Bob MacGregor Trials Academy saw action again today with the young riders battling it out in the final round of the 2013 British Youth A&B Championship.
It was to be Jack Price – Gas Gas who was to dominate the event, laying down the gauntlet to his challengers with an opening lap score of just three points. Second after the first of his three visits to the loop of twelve sections was Dan Peace – Beta with a score of seven with young Welsh rider, Iwan Roberts – Beta in third, dropping thirteen.
It was Roberts who would launch the main challenge to Price in the second lap, dropping just four whilst Peace dropped seven, but with a second successive lap score of three Price continued to hold onto his lead going into the third and final lap of the compact course.
Clearly unaffected by the pressure, Price continued his dominance riding until the fifth section clean where he dropped a single dab. This dab, followed by a three on the tough eighth section put him on four for the lap and an overall score of ten points. Peace dropped seven for his final lap guaranteeing him second place whilst Roberts, unable to come back from his high score on the first lap had to settle for third place.
In the Youth B Championship Tom Hooper – Sherco had a near perfect day in the Ayrshire sunshine, dropping just a single dab on the second lap. Main challenger, Tom Minta – Beta matched Hooper up until the end of the second lap, but a five on the second section of his final lap followed by three on the seventh section was to end his hoped of victory. Toby Martin – Beta tried hard to bounce back from an opening lap score of nine and improved his score over the two remaining laps to four and three respectively, but it wasn't to be enough to overcome his rivals and he had to settle for third place.
On a personal note, our congratulations go to the team at the Bob MacGregor Trials Academy and Stevenston & District MCC for a great weekend and very well run events. The events this weekend will certainly not be the last national Trials we see at this specialised and dedicated venue.
Photo Coverage
As this was a joint event with the Ladies Championship, one gallery covers both Youth & Ladies events
Free Public Photos (10)
Trials Central Supporters Photo coverage (162) - Higher resolution, no watermarks.