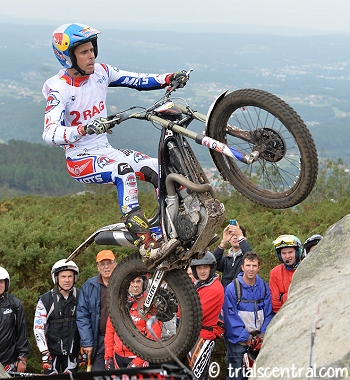 Adam Raga – Gas Gas scored an emphatic and morale boosting win on the first day of his home Grand Prix, round nine of the 2015 FIM Trial World Championship played out in Teo, Spain under dull skies but warm and dry weather after heavy rain had fallen over night. The conditions out on the hills around the small town in the north west corner of Spain suited Raga perfectly as he ran out an easy winner, finishing the day seventeen marks clear of newly crowned champion Toni Bou – Repsol Honda who suffered with clutch problems throughout the day. Albert Cabestany – Sherco finished a further fourteen marks back from Bou to make it a Spanish 1-2-3 on home soil.
In fact, not for the first time in more recent events, it was Spain who packed the entire top five with Jorge Casales – Beta and Jeroni Fajardo - Beta finishing fourth and fifth respectively in what, apart from Raga, was a relatively high scoring Trial due to the slippery going caused by the rain during the previous night.
Despite the final outcome, it was actually Bou who took a slim initial lead before then surrendering to Raga as he clocked up two maximums in sections nine and eleven on the first lap. Raga dropped just nine marks through the opening twelve hazards to carve out an eight mark margin over Bou. Cabestany moved into third place at this point, a further three marks back from Bou, with Casales and Fajardo being the best of the rest in that order.
Both Raga and Bou were simply awesome on their respective second laps, each losing just a single dab apiece. Adam needed a steadying foot in section five, whilst Toni parted with his one and only mark in the ninth hazard. None of the chasing pack were able to get anywhere near the leading duo on lap two with Cabestany again being third in line with a lap of ten. Raga sealed his fourth victory of the 2015 campaign with an almost equally stunning final lap when he lost just two marks to run out an easy and comfortable winner in front of his home fans.
Alexandre Ferrer – Sherco was the first rider to break the Spanish stranglehold as he slotted into sixth place with a total of fifty eight marks. James Dabill – Vertigo got better as the day wore on, posting his best score on lap three to claim seventh position. Thirteen marks was his advantage over rookie, Jaime Busto - Repsol Honda who did not enjoy the occasion of the first day of his home GP down in eighth place. Pol Tarres – Sherco recorded his best result since returning from injury as he ended the day in ninth and just two marks in front of Takahisa Fujunami – Repsol Honda who continues to suffer the effects of his recent back injury. Today's results had no impact on the current general standings in the World Pro class with just one counting day remaining.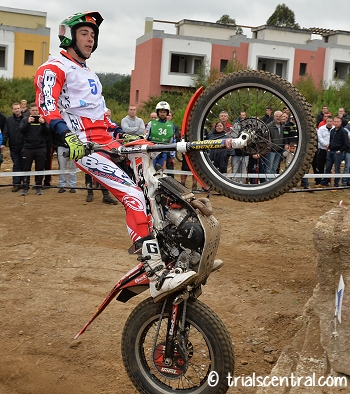 Iwan Roberts – Beta notched up his fourth win in the FIM Trial World Cup class to move up from fifth to third in the championship standings ahead of tomorrow's final showdown that is too close and complicated to call when all variations of the best sixteen results from eighteen counting days will be used to determined the eventual winner of this category. Roberts' latest victory was by the narrowest of margins as he edged out Benoit Bincaz – Scorpa. Meanwhile, Quentin Carles de Caudemberg – Beta kept his title hopes alive by taking third spot to maintain his second place in the series on a day when championship leader Miquel Gelabert – Sherco finished down in fourth. All remains to play for tomorrow with the final overall winner of this category being likely to be Gelabert, Carles de Caudemberg or Roberts.
Marco Fioletti – Beta made it twelve wins in a row and sixteen in total in the FIM 125 Trial Cup class but had to work hard for his latest triumph. Fioletti actually trailed eventual runner up Gabriel Giro – Beta by two marks after the first lap, but rode himself back into the lead by the end of lap two and then used his passage through the final twelve sections to confirm his superiority once again. Winning by twenty marks come the finish, Fioletti condemned Giro to second spot with Maxime Varin – Scorpa completing the today's FIM 125 Trial Cup podium.
Tomorrow will see the 2015 FIM Trial World Championship come to a close in Teo.
Results

World Championship Results

1. Adam Raga - 12

2. Toni Bou - 29

3. Albert Cabestany - 43

4. Jorge Casales - 54

5. Jeroni Fajardo - 56

6. Alexandre Ferrer - 58

7. James Dabill -75

8. Jaime Busto - 88

9. Pol Tarres - 95

10. Takahisa Fujinami - 97

11. Francesc Moret - 117

12. Eddie Karlsson - 123

13. Jack Sheppard - 123

14. Franz Kadlec - 133

15. Hakon Pedersen - 137

16. Kristian Ole Sorensen - 161

World Cup Results

1. Iwan Roberts - 41

2. Benoit Bincaz - 42

3. Quentin Carles de Caudemberg - 51

4. Miquel Gelabert - 52

5. Arnau Farre - 53

6. Oriol Noguera - 59

7. Jack Price - 62

8. Gael Chatagno - 63

9. Billy Bolt - 64

10. Declan Bullock - 75

11. Marc Riba - 79

12. Filippo Locca - 90

13. Andrew Putt - 90

14. Kyle Middleton - 93

15. Ib Andersen - 97

16. Bryan Roper - 105

17. Luca Petrella - 108

18. Julian Berntsen - 121

19. Romain Corna - 141

20. Colin Zarczynski - 142

21. Marek Wunsch - 150

22. Noe Pretalli - 152

23. Chris Bayles - 154

24. Asis Roldan - 164

125CC Championship Results

1. Marco Fioletti - 53

2. Gabriel Giro - 75

3. Maxime Varine - 82

4. Axel De la Mata - 179
Photo Coverage
Trials Central Supporters have access to almost 200 photos across both Women's and Men's Championships on day one. Click here to access
Free Public Gallery