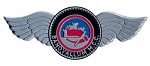 Banovallum MCC held The George Frith Trial at North Ormsby on Sunday with 42 riders taking part on some excellent sections. On the Expert route it was Paul Marwood who just edged Adam Frith into 2nd place losing 26 to Adam's 27 and Chris Traves in 3rd on 58.
Winning the Middle route was Tim Hawcock who only lost 2 to beat Neil Ballinger on 3 and Jamie Britcliffe was in 3rd place on 6.
Mat Mison on the mighty Triumph took the win on the 50/50 route dabbing 5 times and in 2nd place was Tony Bilton losing 16 marks and Shane Payne in 3rd on 22.
Keith Smith lost a single dab on the white route and Dave Smith lost 2 to take 2nd place.
A big thanks to the observers for standing out marking and also to the course plotters and officials for putting on the event.
Our next trial is the Withcall 2day Trial on Saturday 16th and Sunday 17th June at Withcall near Louth LN11 9RL. Camping is available on the Saturday night and BBQ facitilies will be provided.
pdf Download Full Results (13 KB)