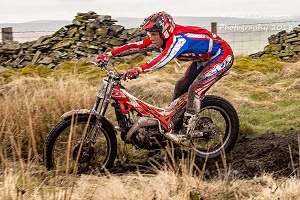 Bolton Motorcycle Club once again hosted its premier event, a time and observation trial, at 400 Acres Dunnockshaw. The weather leading up to the event had been considerably wetter than previous years meaning it was always going to be tougher for the willing competitors, however this didn't dampen there spirits as they set out for a tough afternoon on the scenic Lancashire moors. The 5 lap support class riders headed out first, set off in the usual paired up drag race start, followed by the 7 lap main class.

The going was tough and the moors worsened throughout the day, sections varied in severity, the moor sections got harder as the stream sections seemed to bed in and ride easier.

Unsurprisingly Jack Spencer was first to finish keeping a blistering pace up for his 7 Laps with closest rival Andy Cripps being lapped and a total of 17 minutes behind in 2nd place which mirrored the overall results.

A notable performance came from over 40 rider John Holdsworth, pushing himself into an overall 3rd place on the main route and taking the best over 40 award in the main class.

Bolton Motorcycle clubs very own David Fallows jnr. took the honours in the support class and also the best over 40 rider in the support class, Mick Clarke came 2nd and Phil Smithson set support class standard time and earned himself 3rd place.

The club would like to thank all the observers, the land owners, photographers David Allcock, Mike Crompton, Brian Stowell and our sponsors;

Sandiford Offroad,
Adpak Wrapping Systems,
Astley Hire,
Philip Clarkson Butchers,
SSS Industrial Doors,
Shaw Hill Hotel & Restaurant ,
Anocrome Engineering.
pdf Download Full Results (52 KB)