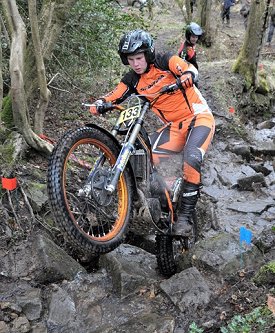 On-form Tom Minta will have high hopes after recording his first National Trial win last weekendSponsored by Devon transport company R.T.Keedwell, where the head man Stuart Keedwell is a keen trials rider, the second round of the British Trials Championship moves into Cumbria on Sunday April 15 where the Westmorland Club are the host for the trial at Tow Tops, Lindal, Cumbria.
This is the second time the club have held a BTC round at this impressive venue where, on a clear day, there are expansive views across Morecambe Bay with Blackpool Tower in the far distance. Over three laps of a 12 section course, the entry of 49 of the UK's very best riders will all be challenging for championship points in four classes, Championship, Expert, Masters and Elite Youth.
Out of the championship for 12 months whilst he contested the Spanish Championship in 2017, James Dabill is back in the UK series and he won the opening round just over a month ago at Hook Woods in Surrey. However, the sections at Tow Tops are very different to those at the predominately manufactured Surrey hazards, for the Cumbrian sections are all very natural with big steps, lots of rocks in mud and some vicious rock outcrop.
The club members behind the section design are those who did a brilliant job last year when heavy rain made the trial much more difficult than anticipated, so the guys will be hoping for a dry weekend in order that the hazards remain at their most testing but still very possible.
Predicting a winner is difficult and Dabill must start as favourite in the Championship class but it was Tom Minta who most recently has found form with his first national win at the Chris Carter. In the Expert class it's almost certain that Richard Sadler and Guy Kendrew will renew their rivalry they have enjoyed this year, whilst in the Masters Ross Danby and Sam Haslam are likely to be potential winners.
There's six guys in the Elite Youths but suggesting a possible winner is difficult as all are very capable.
Start time is 9.30am, the venue is just half a mile off the A590 at the top of Lindal Hill between Levens and Newby Bridge where there's excellent parking. And of course it's all free to watch.