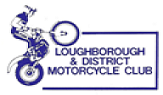 How best to re-energise following Englands World Cup exit? – simple do a cracking two day trial including some overnight camping and celebration and/or commiseration.

On the 18th and 19th of August the Loughborough Trials club is again running it's incredibly popular Susan Harris Memorial two day Charity trial at the combined venues of Vickers Farm and Riley's Railway near Tilton on the Hill Leicestershire. The Saturday evening "fun" focused trial starts at 16:30 from Vickers with the Sunday trial starting at 10:30. Both day's will be designed to provide an enjoyable day out with enough to challenge but not scare anyone.

The club will again be supporting local charities and is looking for a strong turn out on both days to attempt to top the £2000 raised last year. Hot food, toilets on site for those looking to stay over and with Susan looking down good weather is guaranteed.

For any more info please contact the club via This email address is being protected from spambots. You need JavaScript enabled to view it.. Your support for this annual event is very much appreciated.