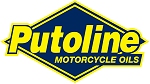 The Hafren Dirt Bike Club, organisers of the penultimate round of the R.T.Keedwell British Trials Championship are pleased to announce that Putoline Motorcycle Oils have come on board as the main sponsor for the club's upcoming Hafren Trial scheduled for Sunday 30th September, which will be round 6 of the ACU Championship.
Their help will make organising such a prestigious event a bit easier, and all the sections will look great decorated in bright yellow and blue Putoline tape. As previously publicised, the club have made a big effort in ensuring their first promotion of a BTC round will be very professional with much work having gone into preparing the gullies and streams at Glynhafren for this prestigious event
Putoline have been a long term supporter of HDBC events, and the club would like to thank John & Sally Hayden for their continued support.