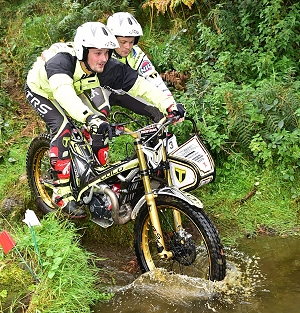 With nine championship events gone and just two to run, the A.C.U. Wessex Plant Hire British Sidecar Trials Championship is still unresolved in the premier class. The South Birmingham Motor Cycle Club will stage the penultimate event on Saturday at the Park Farm, Bitterley with the start time being 10.30 am.
Mathematics will play a major role in the eventual outcome as all competitors, in all four classes, will drop their lowest score. After the Mel Harrison Trial on September 16 Yate brothers Josh and Luke Golding have an eight point lead over current champions Jon Tuck and Matt Sparkes, also Yate contenders.
Ahead by a potential forty championship points, less the single drop score ruling. Manx crew Oliver Lace and Gareth Temple could bridge the eight point gap to the Goldings but that is a tall order as Tuck and Golding missed the Doncaster Cup way back in March due to the weather so their drop score is implemented.
Nigel Scott and daughter Gracie-Mae are unbeatable in the strong Inter class. The threat will come from Tony Jones and Jamie Howe or Dave Tuck and Joe Newman who also have dropped multiple scores so have it all to play for.
The Clubman class is two horse race. No disrespect intended but three crews have amassed a total of 377 gross points and two of them, Manx contenders Jack Corlett and passenger Beth Thomas are invincible which leaves Paul Fishlock and Peter Debbie Merrell to defend the mainland honours. Stef Goodman and Xanthia Petherick had a good result in the Harrison and could be in with a chance whilst John Corlett and Harry Gell missed the D.K Mansell trial so their dropped round score is also done.
As far as the Newcomers category is concerned Elliott and Graham Tickner the class is a done deal!
In terms of numbers twenty crews will compete. Nigel Scott and Jack Corlett will compete although they are ahead in the title battle. The main class will be the expert ranks and the outcome between Tuck, Lace and the Goldings is in the melting pot. Wessex Plant Hire championship sponsor, Phil Sparkes and Steve Chandler will be back in action rather than spectating.
Article courtesy of Barry Robinson.