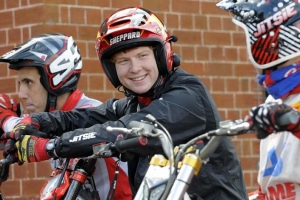 Day two of the Japanese FIM Trial Grand Prix held at the World famous Twin Ring circuit at Motegi failed to be a happy occasion for Jitsie factory Beta rider Jack Sheppard as mechanical difficulties forced him down to ninth place on a day when just six marks split five riders. Sheppard's hopes of overnight rain never materialised and thus the organisers responded by changing three of the sections on the Junior course to raise the level for the second day of competition in the far east.

Sheppard started the day strongly and avoided the early mistakes that had blighted his progress just twenty-four hours earlier, well that was until section seven when an error cost him his first five of the day. This was quickly followed by another failure, but this time through no fault of his own as the clutch gave way on one of the many hill climbs. Despite these setbacks, Jack rode out the rest of the lap well to record an initial score of nineteen marks, which whilst this put him down in eighth spot he was still within touching distance of a podium placing.

Suffolk's finest export did his best to ride around the mechanical issue on his second lap and put in a really spirited performance so as to limit the damage to his result. Although Jack delivered a much improved second lap of just twelve marks, this was still not sufficient to prevent him falling further down the order and to an eventual ninth place in the final results. The cruel story of the day was reinforced as a mere six marks separated Sheppard from fourth position, even after the problems he had endured during his day.

Jack remains fifth in the current Junior rankings, although was far from happy with his day's work.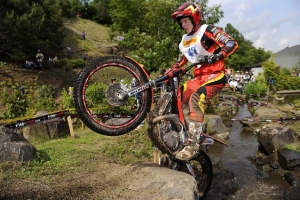 "It's been another disappointing day. I am happy to accept the blame for some of the smaller mistakes, but there was nothing I could do about the clutch at times today." Sheppard explained. "I did my best to ride around the problem, which was OK in some sections, however when it came to the hill climbs there was no way I could hang on to the bike."

Jack went on to say. "The problem kept coming and going throughout the day, which was a shame really as I started off much better than yesterday. The five in section seven on the first lap was my error and was the only big mistake I made all day really. The result is disappointing, the positive is that my wrist is now much stronger than it was a couple of weeks ago, so that is good news."

"We have got a bit of time to get the bike sorted before Spain. This weekend I felt much more comfortable on the bike, which is another good sign and shows that each week my recovery is going forward. Lets hope that shows when we get to Spain."