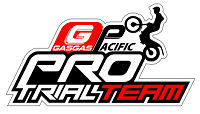 As the 2015 season gets closer to beginning, the Gas Gas Pacific Pro Trials Team is proud to announce yet another impressive sponsor to the list! This is a partnership we are especially proud of as it takes on a bit of National pride. Elka Suspension is an internationally known, Canadian company based in Boucherville, Quebec. The company will be supplying the team with their new Stage 5 technology rear shocks. They will be custom tailored to each of the riders needs, with a remote reservoir enabling easy access to control both high-speed and low-speed compression plus rebound damping.
Team Manager, Steve Fracy had this to say about the signing, "After researching Elka Suspension and seeing the incredible commitment they have to racing and testing their products, I knew they were a company I wanted us to be working with. Speaking with the President Martin Lamoureux, and understanding his passion of trials, it only confirmed the fact that this would be a great fit."
Martin Lamoureux, Elka President added "Elka Suspension is very proud to be apart of the Gas Gas Pacific Pro Trials Team for 2015. Elka's decision to work with the team is another step in the development process towards a new line of OEM and aftermarket products aimed at the trials market. Based on Elka's Stage 5 technology, this new line of shocks will be designed to address the specific needs of trials riders. Steve Fracy has been competing in trials since the 80's. I strongly believe the combination of his experience and Elka's expertise will lead to product improvements that will provide measurable advantaged to the team riders."
Keep and eye on Elka Suspensions website – www.elkasuspension.com, Facebook and Twitter page for updates and results of this collaboration with Canada's official Gas Gas trials factory team.