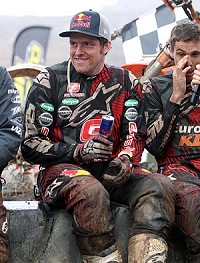 Dougie Lampkin - Gas Gas rode to a gutsy second place at the eighteenth edition of the now famous Red Bull Erzberg Rodeo Extreme Enduro held in Austria. Lampkin, who was also runner-up at the same event last year, was only one of seven official finishers who managed to conquer the iron mountain from the five hundred riders who had started the day.
However Red Bull athlete Dougie counted himself 'lucky' to have even made it to the chequered flag, after he experienced one of the 'biggest' crashes of his career earlier in the day. Despite this set back Lampkin dug deep to put himself on the podium for the third year in a row.

Once again Lampkin showed both his pace and skill as he rode himself into a front row start by placing twenty-second during Friday's initial prologue. Saturday's second qualifying run up the fast quarry tracks was to be cancelled on the grounds of safety as heavy rain out on the course made it treacherous.

Although Dougie was to take his place beside his main rivals on the front row for Sunday's main race any advantage he may have gained was soon lost as he crashed heavily on one of the many steep downhill sections. Unable to make the sharp right hand turn at the bottom of the near vertical descent, the thirty-six year old veteran off road rider hit a group of rocks that was to throw him from his machine and off an almost three metre high concrete wall.

Battered, bruised and with his bike also badly beaten up Dougie picked himself up and re-applied himself to the stiff challenge ahead. Using all his experience Lampkin steadily rode himself back into contention and moved into second spot as he plotted his way through the rocky and infamous Carl's Dinner section.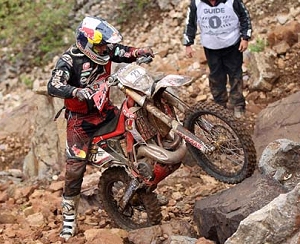 Although unable to chased down run away winner Jonny Walker, Dougie made light work of the final real test of the day and crested the steep Dynamite climb with a comfortable advantage over his younger cousin Ben Hemingway who took third spot to make it an all British podium.

Speaking after his two-hour plus ordeal Dougie said. "That was as tough as ever out there today and the low cloud at the top of the mountain made it really difficult in places. I really thought my day was over when I crashed early on, it was one of the biggest crashes I have ever had, so I was really lucky to be able to get up and walk away without any serious injuries."

"I lost a lot of time and ground because of the crash and was then playing catch up for the rest of the day." Lampkin continued. "I would have liked to have been closer to Jonny, but no one was going to beat him today."

"Overall I am really happy to have finished second, especially when you consider that I have not ridden my enduro bike since early February."
Images: Jonty Edmunds