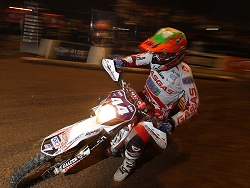 A new success for Gas Gas rider Laia Sanz, who has managed to climb to the top of the podium again, this time, on her debut in the Enduro-X competition in the prestigious X-Games. Laia has dominated at will in the final of the Enduro-X female competition that was held in Foz de Iguazu, Brazil. Despite not having made ​​a good start and being locked into the first corner, the Gas Gas rider overcame both obstacles and her rivals. She overtook the favourite, Maria Forsberg in a technical section and thereafter imposed a pace that led her to cross the finish line first under the checkered flag, earning her first medal in the Olympics of extreme sports, the X-Games. She is also the first Spanish rider to get a gold medal in this competition.

LAIA SANZ
"I knew it would be very difficult to get a medal in my first participation. I really did not expect to win, not after the start, I have not done anything right, but I managed to recover quickly and get into a good pace until the finish line. It was incredible, a fantastic race. I'm very happy, very".

The rider from Corbera de Llobregat has demonstrated her excellent condition, despite having no past references of her rivals or the track, and her Gas Gas EC 250 F ran perfectly both in training, in which she has achieved the best time, and during the six hard laps around the Brazilian track. Laia has surpassed the second-placed Maria Forsberg, by 32 seconds. the U.S. champion, winning the X-Games in 2012, was quick to congratulate Laia. The track was completely different to that found in practice, as the dew from the night made the red Iguazu dirt very slippery and we had to ride tactfully, something Laia Sanz is very used to from her expertise in trial .

The Gas Gas rider had no problems, and she saw very quickly that it did not suit the style of her rivals. However, she managed to keep calm and implement her own style, which eventually struck down the choices of her rivals.

After the joy and savoring the presentation of the gold medal, Laia Sanz is already thinking about her next challenge, which is to defend her world title at the start of the Enduro World Championship in the category Féminas in the town of Puerto Lumbreras, Murcia, on the 10th, 11th and 12th of May. The schedule conflict with the second round of the series with the competition of the X-Games in Barcelona will cause Laia to miss the opportunity to take a second medal. In the two following rounds Laia has no conflict (Munich, June 27-30 and Los Angeles, on August 1-4 August) and she will be able to fight again for a medal in this competition..