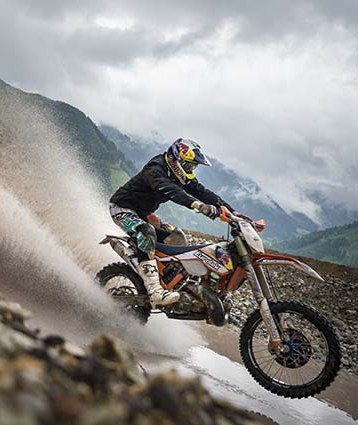 Red Bull athlete Lampkin riding riding his Eurotek Hope KTM placed sixth at today's Erzberg Rodeo extreme enduro in Austria. The big Yorkshireman, having turned thirty eight years old last birthday and better known for his exploits on a trials bike, once again showed that he can still mix it with the best off road riders in the World with another solid performance at this ultra tough event.
The slow speed trials specialist booked his place on today's front row after securing a top fifty placing in the fast flowing prologue that was contested on both Friday and Saturday. This is used to determine the starting order for the five hundred brave warriors that fight out the main race, with only a very small number eventually making it to the finish.
Last year at the same race, Dougie's day was over before had even began when he drowned his bike only seconds after sprinting away from the start line. Although Lampkin made a better start this time around, his initial progress from the floor of the huge quarry was not what he was looking for and the twelve times FIM Trial World Champion soon found himself in heavy traffic as he began his fight up the leader board from just inside the top forty.
Two early crashes on the higher speed sections of the rocky course were also to hamper Dougie's initial progress. However, even these series of setbacks could not keep the big man down as he started to come into his own on the more technical and demanding parts of a race that would last just under two hours for Lampkin.
Typically Dougie was in no mood to give in and slowly but surely made his way up the order with some great riding in the 'no help zones' to record a worthy and very credible sixth place against a World class field of specialist and far more experienced enduro riders. The level of Lampkin's achievement become even more apparent when more than one thousand five hundred competitors from forty countries and five continents contested this weekend's event.
Speaking at the finish Dougie said. "I actually feel good, perhaps the best I have ever felt at the end of this race. My start was shocking, there was simply too much going on for me. Us trials riders are used to riding on our own, not racing with five hundred other guys."
"I made it hard work for myself as I got stuck behind so many slower riders going into the woods and then when I tried to push on the faster sections I had two big offs."
"The technical and no help zones is where I was best and is where I made up the most ground."
"All thing considered, I am happy with sixth and more importantly just to be all in one bit." ended Lampkin.