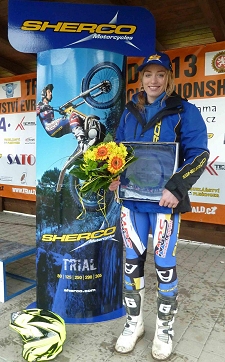 Having created history at this year's SSDT by becoming the first ever lady rider to receive a Special First Class award, finishing in the top 50, MRS Sherco rider Emma Bristow carried her new confidence into the first round of the Ladies European Championship. Held in Tanvald, in the Czech Republic last Saturday, 1st June, Emma was extremely pleased to come away with her first big win of the year.
The MRS Sherco rider was concerned as the trial was proving to be a little on the easy side and she was actually tying for the lead after the first lap with Sandra Gomez. However, with the rain falling the traditional Czech sections proved a winning formula for Emma when the scores rocketed in the worsening conditions. Emma got stuck in and put all her energy into bringing off a fantastic result for MRS and the Sherco factory.
Her confidence was further boasted on Sunday when she took part in the European Junior Championship where she finished a very creditable 10th in what was an excellent field of riders. Emma felt that the event was extremely good practice for the forthcoming World Championship which takes place in Andorra on Saturday and Sunday, 15th and 16th June.
Ladies 1st Round EUM European Trials Championship, 1st June, 2013

1st EMMA BRISTOW (MRS SHERCO) 20
2nd Sandra Gomez (Ossa-ESP) 31
3rd Sara Trentini (Beta-ITA) 54
4th Kathrin Dohia (Gas Gas-GER) 60
5th Theresa Baumi (Ossa-GER) 65

1st Round EUM Junior European Championship

1st Iwan Roberts 57
2nd Timo Myohanen 67
3rd Martin Matejieck 67
4th Jack Price 70
5th Dec Bullock 78
6th Bradley Cox 81
7th Benoit Bincaz 85
8th Ivar Normun 88
9th Pietro Petrangeli 92
10th EMMA BRISTOW (MRS SHERCO) 94

The next event for Emma and all the MRS team will be the 3rd round of the British Championship, held near Richmond in North Yorkshire this weekend, 9th June, where she is aiming to move higher in her finishing position. Some of the MRS riders will certainly be pulling out all the stops to make sure they are not one of the swelling group of riders to be 'Bristowed.'!
After the event Emma and MRS team rider James Fry will be making their way out to the Sherco factory where they will be visiting top technician Josep Paxau in preparation for the forthcoming world round that next weekend, 15th / 16th June.