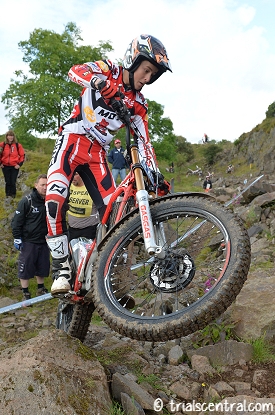 Jack Peace in action
Image: trialscentral.comJST GGUK Youth Rider Jack Peace has just finished 4th at the Swiss round of the 2015 European Youth Trials Championship in Grimmialp resulting in finishing 3rd overall in the Championship.
Team Peace had a 'grim' week before the event after their battered camper went bang en route from Belgium. The camper was eventually left and a van was rented so they could get to the Trial in time for Jack to ride on Saturday.
I cant believe 'wonder woman' Jayne Peace couldnt fix it! Im sure Team Peace could write a book about their year this year with too many events to mention! After being stranded roadside they eventually got to the Grimmialp in the rented van.
Jack kept his cool on race day and made the start on Saturday and was actually leading after the first lap but eventually finished 4th in a low scoring event for the Youth Class. Jack was gutted to mess up towards the end of the trial losing second in the Championship. Nevertheless Jack has ridden well so congrats to him.
Congrats also to Toby Martyn and Beta.
Jack will be back home soon (hopefully) to ride the final BTC round this weekend. Lets hope the trip goes well and also for Dave Willoughby who has Jacks gasser! Jack will join the rest of Team JSTGGUK where we hope Team mate Dan Thorpe will lift the Expert Class tltle and Sam Haslam will fight to stay 3rd or maybe 2nd overall in the Champ Class.
Regards Shirty