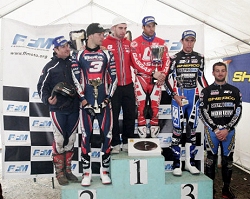 The opening round of the French Trials Championship was held in Scaer (Brittany) and proved to be an opportunity for the French Sherco team to continue to develop some good habits, reconnect with old friends and work together to bear fruit that was beyond all expectations. The Sherco team colours shone brightly on the majority of the Britons podiums.
However the day was tarnished by a claim that was brought against the team leader Alexandre Ferrer, a claim that deprived the French champion of the victory in the first round which caused him to place second and the overall outcome moved him into fourth place on the second day. For this same category all of the Sherco team welcomed Cedric Tempier to the podium for his outstanding finish in the second round.
In the Senior 1 class, the winner was Benoit Bincax and he will join the elite of France for he was a double race winner, a very impressive performance as Benoit is only 16 years old. In this same category he knows that his most dangerous opponent is Martin Poach who is also a member of the Sherco French team, Martin took second place in the provisional standings of the French Championship.
The Hope class is one that is dear to the team Manager Didier Valade, because it is the breeding ground for French Trials. In this class it was all Sherco with the top 3 spots going to Team Sherco riders who were Gael Chatagno, Pierre Sauvage and Anthony Charlier. Gael Chatagno combined the awards and returned from Scaer leading the Open ranking. Note: in this category Pierre Sauvage stepped on the podium in his first race and he is only 14 years old! The race was won by Adrien Vergnault.

In Hope 2, Thomas Helias and Floriant Cardinal earned 3rd place finishes.

Finally, in Hope 3, Sacha Bussow won the two rounds of the Championship which is a great omen for the whole Sherco team.