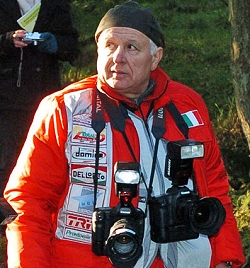 The World of motorcycling, and in particular the sport of Trial is mourning the loss of one of its true gentlemen following the news of yesterday's sad and sudden passing of Italian stalwart Giulio Mauri whilst he was competing in a classic Trial event close to Rome, Italy.

Known and respected in the international Trial community for many seasons as a professional photojournalist, sixty-six year old Giulio switched roles in the later years to work for his national Federation and more recently as part of the FIM Trial Commission (CTR). As President of the FMI (Italian Motorcycle Federation) Trial Commission and a CTR Bureau Member, Giulio remained an active campaigner within the sport of Trial to the very end. Only last weekend he was present in Andorra for the latest round of the FIM Trial World Championship as a delegate for his national Federation.

Giulio's passion for the sport of Trial and his ever present personality will be sadly missed by all those that knew him, and no more so than this weekend's forthcoming Trial Grand Prix at Santo Stefano d'Aveto, Italy.

The FIM's thoughts are very much with Giulio's wife, two children, plus his other family members, friends and the wider Italian Motorcycle community at this very difficult and sad time. Vito Ippolito, FIM President added his own words. "I am both saddened and shocked by this news. Giulio was a great man and was very much a part of our FIM family. He was a strong character who always wanted to do the best for his sport. His views and his work will certainly be missed. Both personally and on behalf of the FIM as a whole, I would like to offer Giulio's family our most sincere condolences as they begin to come to terms with their loss."
(Photo courtesy of Barry Robinson)