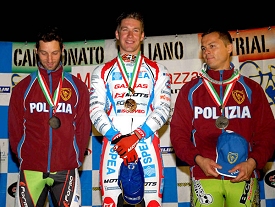 Last Wednesday saw the fifth and final round of the Italian Indoor Championships take place, organized by the Moto Club Lazzate in the town of the province of Sondrio with a large and passionate audience following the event.
Daniele Maurino did not have one of his best races. However, he concluded the championship in an excellent second place, a magnificent podium for Team X4.
Matteo Poli got a good fourth position equaling on points with the third, and so the position was decided by the time and Matteo left off the podium by just one second! A pity, but equally a great result.
Congratulations to Daniele Maurino, Matteo Poli and Team X4!