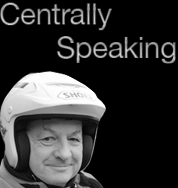 It's great news that Dougie Lampkin has decided to retire from World Championship trials, and if you think that is an unkind or uncalled for remark, then let me explain.

No rider in the history of our sport has done more to popularise motorcycle trials, and even though the Lampkin name has been familiar to just about anybody who may have had a vague interest in bike sport, since he graduated from being a pretty good schoolboy into multi-world champ, his has been the name everybody has recognised and known.

And I'm sure that many have, like me, been very worried that as the years progressed and the sections became more challenging, it was no fun seeing an icon struggling to make the grade of which he was once the true master.

I'm of an age to remember well Sammy Miller's 11 year domination of the British Championship and when Gordon Farley dethroned the Ulsterman who had been in a class of his own, Sammy almost immediately announced his retirement. We know that since the day SHM forsook British Championship challenges, his name has lingered on as a legend in his own time.

Dougie may well have taken a touch longer to make his retirement decision, but he's done it at a point where he is totally respected worldwide and you can be sure that his fantastic reputation will live forever, and those of you who are of a younger age group will remember in 30, 40, maybe 50 years time, the announcement that brought to an end a career that has been well documented.

Quite frankly, I'm delighted to learn that Dougie has retired from the big time of trials as I will be able to remember him in the future when he was at his peak, and not remember him if he were to have continued and perhaps slowly dropped down the pecking order.

Those who have the courage to call it a day when at or very near the top and who are fondly remembered include Pete Sampras, Andre Agassi, Mick Doohan, Kevin Schwantz, motocrosser Dave Thorpe as well as others from many sports and it will be great to add the name of Dougie Lampkin to such an illustrious list.

It's been a good few weeks since my last column and throughout those weeks I have been asked many times to write a column, so when I do, I want it to be for something of importance, and it was Dougie's retirement from WC events that prompted me to the keyboard.

Another item of importance is the move to no-stop for British Championship events. I chose not to go to Fort William for round one having been to Kinlochleven three weeks earlier for the Ian Pollock Trial and I'll be there in two weeks for the Pre 65 and SSDT. However, I have been the ACU Steward at two nationals recently, the Bootle Club's Normandale round and the Chris Carter S3 Championship round, both of which were run under no-stop rules.

Whilst these two trials were very different in the levels of severity, in one other respect they were very, very similar. In both cases the sections were generally straight, with no tight turns and there was plenty of room for riders to tackle the hard parts of each section.

The Chris Carter held at Dob Park, Otley and surrounding area was the more interesting trial to me as the level of rider ability was higher (no disrespect to the Normandale boys), and I was eager to see just how difficult the sections would be to cater for no-stop action. It's not fair comparing Scottish sections with those found in Yorkshire as they are very different, Scotland's being unique to the UK, and in my opinion the Carter hazards looked very sensible. If you ignore the fact that Dibs went clean, the next best score was 15 and that seems to me to be about the right score for a winner in different circumstances.

Going no-stop may not be liked by some of those riding the British Championship, but I know darn well that it makes life a lot easier for those planning the sections, and being brutally honest, there's very few who have now chosen to go into the championship class are ever going to ride a WC event. Just like it always was in the past, trials should be for the majority and not for the select few.

Having said that, in my own North West Centre, most clubs are still running stop allowed and in such cases, this also works well. Local centre/club trials have a fairly low level of ability once you get away from the best half dozen or so, and running with stop allowed definitely makes life a lot easier for the lads who can frequently find the most innocuous section intimidating.

It's all about encouraging riders into the sport. Run no-stop and you risk having riders who are always in the last 50% of the results going home with horrendous scores. Run exactly the same sections with stop allowed and those same riders will have scores that are less demoralising.

Those who say "ah, but that's not like it was when I was a lad" can forget it. At the level of event that my club and most of those that the average bloke rides with, it's all about getting bums on seats and giving Joe Average a day out on his bike. None of us is ever going to make it into the big time, so just give 'em what they want.

You know it makes sense.