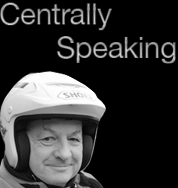 Just about 35 years ago, (within a week or so) I agreed to leave my employment at a Volvo truck garage at Okehampton in Devon and move north to join a fledgling weekly publication based in Morecambe, Trials and Motocross News. It was a major decision in my life and one that involved a lot of soul searching prior to making the decision.
I was due to start work in the Morecambe office in the first week of February 1978, and the last trial that I rode in Devon was an Otter Vale Club event held in the hills above Ottery St Mary – the club incidentally of which I was the Treasurer. Just prior to that particular Sunday, Devon had experienced a very heavy snowfall and I recall setting off in my Volkswagen Beetle, towing a trailer with my 250 Beamish Suzuki lashed on, without giving any consideration as to whether the trial would be cancelled. Of course it wasn't and I remember that there was a significant amount of snow around; cars and vans were being abandoned right, left and centre with riders unloading bikes and riding the last few yards (miles) to the trial. I even recall saying to the secretary Des Seward, "was the trial cancelled?" He ridiculed my suggestion and the event of course went ahead.
How times have changed!
This past weekend just about everything that was even remotely affected by snow has been cancelled and it seems to me that our sport no longer runs come what may and events are removed from the calendar the moment there is even the slightest risk. I guess it's a sign of the times. Through the passing of those 35 years, attitudes with regard to personal safety, land management and risk assessment have changed out of all proportion to the actual risk involved with the result that events, even though they may well have been planned for a year, can be called off at less than 36 hours notice.
This is not a criticism. My own club is equally guilty as we fear the wrath of farmers should there be significant land damage, particularly in fields where we park. In addition, the prevalence of large vans rather than private cars with racks or trailers for machine transport also plays havoc on soft surfaces.
But there is also another consideration. All those years ago when I was considering my move north, as I recall there weren't so many events planned deep in the winter months when the weather was predictably at its worst. Of course there were trials scheduled, but only by clubs that could confidently use land that was less likely to be affected by the weather. Most trials were road based over one or sometimes two laps that used several different locations for sections, so land damage was kept to a minimum.
On a personal note the cancellation of trials this past week or so has been of a benefit to me as I'm unable to take part in trials for a good while. Most local riders here in the north will know that I have recently undergone open heart surgery and it seems unlikely that I shall be able to ride for at least a couple of months, maybe longer – though to be sure, once I'm fully healed then I shall be back in action.
So I'm being exceedingly selfish when I say cancelled events are of a benefit to me. It means it's one less event that I shall miss riding! However, clubs will benefit because whilst I can't ride, I can of course officiate and intend to do so at every possible opportunity. In fact I have already done so by observing two weeks ago in bitter weather and had plans to do so for the following two events, both of which were cancelled. But next week......! Here's hoping.
Not only have I been out of action trials wise, I have also been at home since Christmas Eve, unable to work or drive as I recuperate. Not an easy thing to have imposed on oneself when you are used to being active, so I've had to find other things to keep me amused. Purely for personal use and to inform future generations, I've written a review of my life to date (nothing particularly exciting there), and have sorted out the many photographs and negatives that are lying around in various drawers and envelopes that I've received or taken over the years. There's far too many to catalogue accurately but perhaps one day some future historian of the sport may find something of interest there.
And finally, to occupy another blank Sunday, here's column 216 for Trials Central. See you soon with an observing board in my hand.