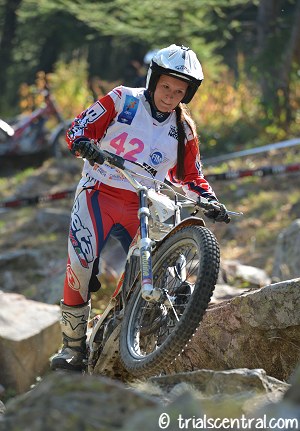 It's great to be British – well it is if you are into trials sport, especially following this past weekend where world trials gathered for three major events, the final round of the Women's Trial World Championship; the Women's Trial des Nations and the Men's Trial des Nations. And British riders featured at the very top twice and on the podium in the third event.
The French ski resort of Isola 2000 hosted the three big trials, and whilst it had its limitations, it nevertheless provided a great backdrop for world championship competition with riders from 24 countries funding massive expenditures simply to be together in the great world of trials.
Already you will have read on here that the fantastic Emma Bristow won the fifth and final round of the Women's World Championship, to clinch the title for the third consecutive time; and what better way to do it than to win all five rounds outright to finish with the maximum score of 100 points.
That was on Friday, then on Saturday she joined forces with the bubbly Donna Fox and determined Becky Cook to ride for Great Britain, and under enormous pressure from Germany and Spain in particular, our three girls won the Women's Trial des Nations for the fourth consecutive year and the seventh time in total, with Becky having the fantastic honour of being part of all seven winning British squads.
Onto Sunday with James Dabill, Jack Price and Iwan Roberts representing Great Britain in the six team strong elite class of the Men's Trial des Nations where once again they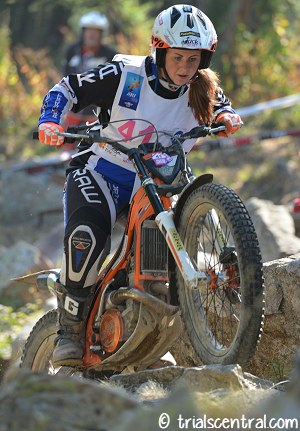 took third on the podium behind the all conquering Spanish trio and the regularly challenging veteran squad of Japanese riders.
So that's a brief outline of what happened at Isola 2000 last weekend, but let's look at the detail a bit closer.
If you've been to a world trial, whether it be in GB or abroad, then the TdN is bigger, not least because there are more riders in attendance and therefore more team set ups but also more officials with FIM delegates in attendance from all over the world.
They are there to support each other, not just the riders and Team Managers but also a gathering of fans, all paying their own way to cheer on their small teams of just three riders, the majority of whom have no chance of claiming a podium place. In fact it's a great show of support worthy of the Olympics of motorcycling. And being relatively close to the UK with easy access, France attracted a healthy group of fans to cheer on the GB teams. And it's that intense support of the teams that was so gratifying to see.
Obviously Emma Bristow is well supported due to her much deserved success individually, but when it comes to the team event, Emma, Donna and Becky enjoyed amazing encouragement everywhere they rode at a venue not particularly favourable to easy spectator access. In fact there was a hell of a lot of walking to do!
Although not officially entered as a National Team, the British trio of Chloe Richardson, Jess Bown and Louise Alford turned in a sterling performance and would have finished fourth overall if classifiedIt's difficult to explain the pressure the girls were under for several reasons, but let me do my best.
The TdN result format is the best two scores from the three riders in every section which becomes the counting mark loss. In other words, the worst score of the three is discounted, so two cleans and a five equals a zero section score; equally, a one mark penalty from each rider scores two for the section. Got it!
Whilst the hazards looked quite difficult (and indeed were for many of the all girl teams), for the top riders the sections were, if not easy, then all were cleanable, so there was real, intense pressure for each rider to go clean, because one five mark penalty to be counted, could easily cost the team the trial.
And that's where the two minders, James Fry and OJ – Oliver Sharp – came into their own. Together they were brilliant at coaxing the best out of all three girls. They responded magnificently, worked together and individually pulled off some fantastic rides whilst very conscious that their nearest rivals were equally determined to succeed. It really was good to watch and understand the efforts put in, not just to be there to take part but to achieve the promise expected having already been three time consecutive winners.
Be proud of them and their supporters, it was a great, all round, full team effort from all concerned, riders, minders, team managers and cheering fans. Brilliant!
So GB won from Germany and Spain, but in a brilliant fourth place – though not officially recognised because they were not an appointed national team but a FIM support team, were Jess Bown, Chloe Richardson and Louise Alford, very ably managed by Craig Talbot, Becky's husband. Together they put an equal amount of effort into getting a result, and bearing in mind they rode the same sections, they produced a fourth place finish that I am sure they would agree was way above likely expectations. They were as delighted with an "unofficial" fourth place as were the winning GB trio. Again, great to see.
Come Sunday and nobody in France had any other expectation that Spain could be anything other than winners. And so it was with Toni Bou, Adam Raga and Albert Cabestany winning with a score of zero which left all the interest in who would make it onto the two lower steps of the podium. In 2015 GB had to be content with fourth behind Japan and France, so this year there was revenge to be had. And they achieved it by claiming third, beaten by Japan by just one mark with rivals and home team France well off the pace in fourth.
Dabill, now the old man of the squad led the way with first timers Jack Price and Iwan Roberts stepping into the fold and proving that they were very much up to the mark. Jack Price is undoubtedly a force to be reckoned with while Iwan proved to be a worthy selection into the team.
Being realistic third was about the best they could have hoped for as the Japanese trio of Fujinami, Ogawa and Kuroyama undoubtedly had the edge in the elite class whilst in the well supported, 18 strong team International Trophy, it was Germany who proved to be the best.
Again, James Fry and OJ were the minders – as demanded by the new for 2016 FIM regulations – and they again earned their corn as it's an arduous task running up and down 18 sections on Sunday and 14 on Saturday, cheering, coaxing and advising their riders and ensuring the morale doesn't drop when the occasional mistake happens.
There's no doubt that Team GB in all its forms, riders, managers, minders and supporters is very well respected by all the other countries, not to mention the FIM delegates who envy our strength in depth, not just of top riders but also our club scene where the 9000 or so ACU licence holders far outnumber riders of any other country. Our name, attitudes and in depth support of trials at all levels from world down to club evening events is well respected and perhaps not always appreciated by those who perhaps see the top level of the sport detached from club level. Believe me it isn't and we are very much the envy of many trialing nations.