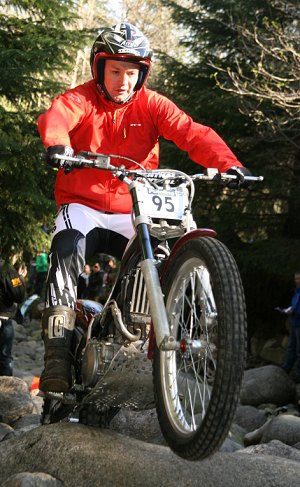 With the Scottish Six Days Trial attracting a huge and loyal following each year, it is not surprising that a number of riders taking part use the event as an opportunity to raise money for charities that are close to their heart. Amongst this year's proud fundraisers will be 31 year-old Boyd Webster who will be supporting Cancer Research UK with his campaign 'Cleans for Cancer.'

Boyd, a Quantity Surveyor from Skipton in Yorkshire, is a well known name in his native centre (following in the footsteps of his father, Boyd senior) and is also a familiar face at 'The Scottish'. He was just 21 when he first competed in the event and since then Boyd has not missed a single year. Boyd occasionally makes it into the top 50 riders and peaked in 2004 with his best result to date when he finished in the top 30.


"The Scottish is a big part of my family's life. My father used to compete in it before me, and I first went to watch it with my family when I was around six or seven years old," says Boyd.

Unfortunately cancer has been another significant factor in the Boyd's life, with a number of his relatives and close friends having battled or lost their lives to various types of cancer over the years. So, this year Boyd has decided to combine his passion for 'The Scottish' with his desire to make a difference by supporting Cancer Research UK, the world's leading charity dedicated to beating cancer through research.

According to the Cancer Research UK, more than one in three people will develop some form of cancer during their lifetime. The charity relies on the support of the public and donations to fund its life-saving work.

With his Cleans for Cancer fundraising campaign, Boyd is asking people to pledge a fixed amount for each 'clean', otherwise known as completing a section with zero marks, he achieves over the six days: "On the basis that I don't get out much on the bike nowadays you should be pretty safe with your bets, but with cash at stake, I shall be hanging on harder than ever!"

Along with the other riders competing in the Scottish Six Days Trial on 7th - 12th May, Boyd will ride through 180 observed sections over the six grueling days and will cover around 500 miles both on and off road in the Scottish Highlands. Boyd has set himself the target of achieving between 50 and 60 cleans and hopes to raise £2,500 for Cancer Research UK.

Donations can be made via Boyd's JustGiving page. Boyd is inviting people to follow his progress during the event via the official Scottish Six Days website at www.ssdt.org.

Boyd and his supporters will also welcome cash donations during the event itself where people can give a set amount to sponsor Boyd. There will be collection buckets placed in all expected locations.