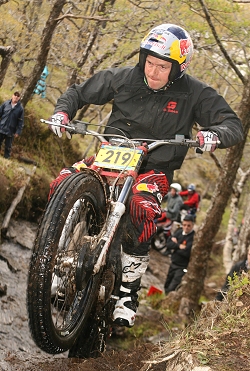 With just over eight weeks to go before the start of the 2013 edition of the Scottish Six Days Trial (SSDT), organised by the Edinburgh and District Motor Club, last year's winner Dougie Lampkin (Gas Gas) is already preparing to defend his title as he looks to further extend his winning association with this iconic event. Lampkin secured an historic and record-breaking sixth SSDT victory last May when the competition saw its closest climax in its one hundred and one year history.

Lampkin will be one of two hundred and seventy riders who will be competing in this year's Scottish Six Days Trial, which takes place in and around Fort William from the 6th to the 11th of May. The entry consists of both amateur and professional riders who will have travelled from all over the world to be part of this unique event.

Twelve times FIM Trial world champion Lampkin, who will celebrate his thirty-seventh birthday later this month, now cites 'The Scottish' as it is affectionately known as his most important competition of the year, with him having stepped down from the World championship in more recent seasons. With this in mind, it is then not difficult to appreciate why Dougie is so determined to achieve win number seven when he heads to the Highlands this coming May.

"I think you have only got to have a look at the names on the winners' trophy to understand how much the SSDT means to both me and my family," explained the tough Yorkshireman. "My uncle Arthur first won it back in 1963 before my uncle Sid (aka Alan) won it three years later. We then had to wait a bit before my dad, Martin, then brought the famous trophy back into the family from 1976 to 1978."


"I remember being taken to Fort William as a very young child and the trip to the Highlands became an annual trip. I have great memories of me, my brother Harry, my cousins Dan and Ben Hemingway and the other kids playing on our bicycles on the steps in front of the hotels in the High Street. That used to be our own mini SSDT!"

Dougie had to wait until he was eighteen years old before he won his first SSDT , and having succeeded at just his second attempt, he then went on to win the event the following two years before taking leave from his favourite trial due to his world championship duties. Although absent from the SSDT entry list for several years, Dougie's passion for the Scottish never diminished and he showed this as he made a victorious return in 2008. A year later Lampkin took his tally to five Scottish Six Day Trial wins to equal the record held by SSDT legends Sammy Miller and Mick Andrews.

Mechanical issues and injury put Dougie out of the running in 2010 and 2011, and left him questioning if he would ever win the event again, especially against his younger rivals. "Going into last year's SSDT I definitely had an element of doubt in my mind. It's a long and tough week both physically and mentally and you need to have a bit of luck on your side."

"Winning last year's SSDT after such a close finish felt incredible and certainly ranks up there alongside some of my greatest and favourite wins. The idea at this stage in my career was to return to the Scottish to enjoy riding with friends and family, as it is a great week on the bike, although somehow my outlook is just as competitive as ever. To win a seventh SSDT would be amazing and something I would love to achieve."

To find out more about the Scottish Six Days Trial and spectating opportunities, please visit the website at www.ssdt.org.

Images: trialsphotos.com